Department of Social work template
A template designed for social work tutors who are starting from a blank module site.
What is this template?
This template has been designed for tutors who would like to support their teaching with weekly resources.
Why does it exist?
This template makes it easier to present your support materials in an organised fashion that is easy for your students to navigate. You can visit the template site to see how it looks.
Key features
This template is a complete site with a home page and links between each of the weekly topics. Students can navigate between topics on the site without returning to the Home or Units page
It suggests:
Having a page for each module topic with some key headings including topic introduction, topic learning outcomes, lecture and seminar notes and readings

Using the Talis Aspire to manage and disseminate your reading list - separating the list by weeks and linking to each of the weeks from Units page
Preview
How does the Home page looks on a mobile?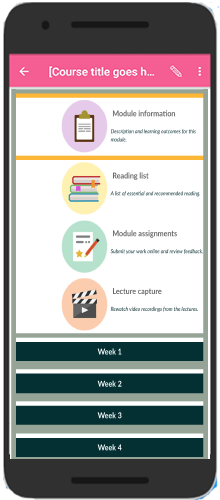 How does the Home page looks on a desktop?