Canvas Guides & FAQs
Please see below for a series of commonly asked queries. If you cannot find an answer to your question here then please email tel@sussex.ac.uk

Guides
e-Submission
(Further guidance on e-Submission can be found on our e-Submission page )
Lecture Capture
FAQs
Student FAQs
Why can't I see my modules as a student?
If you cannot seem to access a Canvas module that you were expecting to see there are a few things to check.
1. Look in your list of Modules. If you are using the Card View display on your Dashboard and have marked any modules as favourites, these are the only ones that will be displayed. To see all the modules you are enrolled on, select Modules from the Navigation and click All Modules. You may need to scroll down to see All Modules.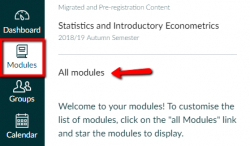 You can now click the 'star' icon to add any of these modules to your dashboard. Clicking on the module name will also take you into it, as long as your tutor has published the module.
On the Canvas Student app, you'll need to go to the Dashboard tab, then tap "See all" to see all your modules.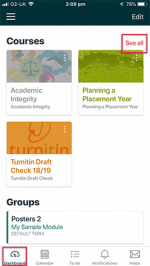 2. Check Past and Future Enrolments. Some modules will be listed as Past Enrolments or Future Enrolments if they are for previous or future terms. Before term starts you can access any modules that have been published by the tutors, although you will have to wait for the start of term before you can carry out activities like quizzes or discussions.
3. Check that your module has been published. If the module you are looking for is in your list of modules there will be an indication at the end of the line showing whether the module has been Published by your tutor. You will not be able to access it until it has been published.
4. If a module is not appearing in your list of All Modules it may be that your records are not up-to-date. You can see which modules you are enrolled on in Sussex Direct and your School Office will be able to help you if your enrolments are incorrect.
Introduction and accessing Canvas
Getting ready for the start of term