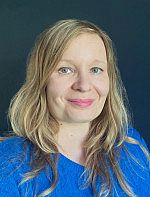 Dr
Mari Martiskainen
Post:
Research Student (SPRU - Science and Technology Policy Research) (The Sussex Energy Group)
Other posts:
Research Fellow (SPRU - Science Policy Research Unit)
Research Student (SPRU - Science Policy Research Unit)
Location:
JUBILEE BUILDING JUB-331
Email:
M.Martiskainen@sussex.ac.uk

Telephone numbers
Internal:
6715
UK:
01273 876715
International:
+44 1273 876715

Research expertise:
download vCarddownload vCard to your mobile
Biography
Research Fellow, Centre on Innovation and Energy Demand, SPRU (2014-)
Phd Student, Sussex Energy Group, SPRU (2010-2014)
Research Fellow, Sussex Energy Group, SPRU (2008-2010)
Research Officer, Sussex Energy Group, SPRU (2006-2008)
Communications and Small Wind Officer, RenewableUK (formerly the British Wind Energy Association) (2004-2006)
MSc in Environmental Technology, Centre for Environmental Policy, Imperial College London (2002-2003)
Editor, www.bunkerworld.com (2000-2002)
BA Social Sciences (Communication Studies, Sociology, Philosophy) University of Helsinki, Finland (1997-2000).
Role
Mari joined the Sussex Energy Group at SPRU in 2006. Her research has included topics such as community energy, consumer behaviour and debates surrounding new and old energy technologies, such as nuclear power and microgeneration. Mari is currently working for the Centre on Innovation and Energy Demand, concentrating on issues such as energy efficiency policy and innovation linked to building energy efficiency.
Mari succesfully defended her PhD, "Delivering Community Energy Projects, experiences from Finland and the UK", in August 2014. During her PhD Mari was supervised by Professor Gordon MacKerron and Dr. Adrian Smith.
Mari is an affiliate PhD Researcher of the Tyndall Centre for Climate Change Research. You can also follow Mari on Twitter @martiskainen.
Qualifications
PhD in

Science and Technology Policy Studies, SPRU, University of Sussex (2010 - 2014)

MSc in Environmental Technology, Imperial College London (2002 - 2003)
BA in Social Sciences, University of Helsinki, Finland (1997 - 2000)