News, events and competitions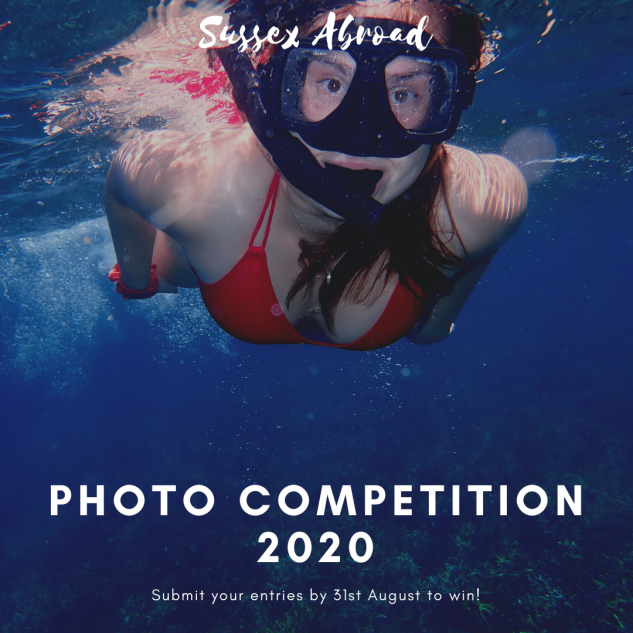 The study abroad photo competition is now open. If you participated in study abroad during 19/20 you can submit your entries up until the closing date of 31st August.
We understand that many of you had a disrupted end to your year or term abroad in 19/20 so we also wanted to give you the chance to also reflect on the whole experience of being abroad. We therefore thought we would incorporate this into our annual photo competition this year. So, along with your images, we'd like a few words (max 300 words) reflecting on your time away. We have listed some possible topics below to give you some ideas.
How has the chance to study abroad affected your outlook on the world and your plans for the future?
What do you miss most about your host country now you're back home?
How have your studies abroad helped you to grow and develop?
You can submit a maximum of two photos. Please try to use high resolution images if possible.
As we may use the pictures in future marketing campaigns, we will also need you to complete the this consent form.
Prizes
The overall winner will receive a £50 Amazon voucher. There will also be 3 runner-up prizes who will receive a £30 Amazon voucher.
Closing Date
The closing date for entries will be Monday, 31st August and we will announce the winners shortly afterwards.
How to Enter
Please email your submissions, including your consent form, as an attachement to Jon prior to the closing date on 31st August.
Good luck!
EVENTS
At the beginning of each academic year the Sussex Abroad office organises information sessions throughout the Autumn months to all students in their 1st and 2nd year at Sussex.
Past Events
Study Abroad Fair - Wednesday 18th May Fulton 104, 13:30-15:00
We are pleased to announce that the Sussex Abroad office is organising a Study Abroad Fair! We will have colleagues joining us from the International Offices from: Universitat de Valencia (Spain), Sofia University St. Kliment Ohridski (Bulgaria), Charles University (Czech Republic), Warsaw University (Poland), College of Charleston (US), Ecole de Gouvernance et d'Economie de Rabat (Morocco), Monash Malaysia (Malaysia), ICN Business School (France), Konstanz University (Germany), TUM Munich (Germany), Radboud University (Netherlands), University College Cork (Ireland), Masaryk University (Czech Republic), Université Sorbonne Nouvelle Paris 3 (France), Uppsala University (Sweden), Koç University (Turkey), Zagreb School of Economics and Management (Croatia).
Please take this opportunity to come along and find information about each of these universities and what they can offer you as a study abroad student. The Sussex Abroad office will also be represented and we will able to answer any study abroad questions you have.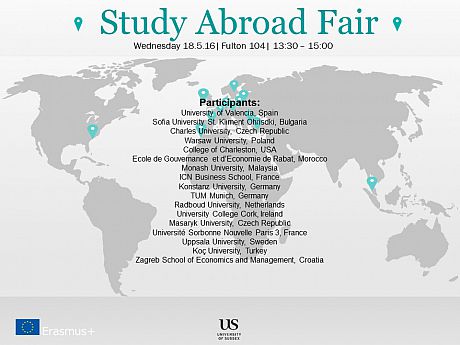 Study Abroad meeting for 1st years - Wednesday 27th April in Fulton Lecture Theatre B
We were very pleased to see so many students attending our annual study abroad meeting for current 1st year undergraduate students! We want to say thank you for our returning students who came and talked about their experiences from studying abroad. We hope that you enjoyed the session and the networking event we had afterwards. If you want to look at the presentation given during the meeting, please click here.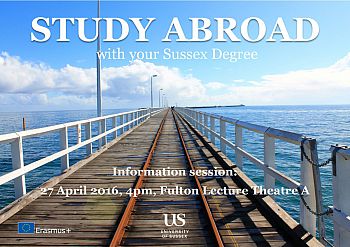 Study Abroad Information Session - North America and Australia
We want to thank our incoming exchange students for coming in and talking about their home universities, it was great to have them there! We were very pleased with the session and we hope those who attended found it useful and informative. You can download the presentation given during this session here.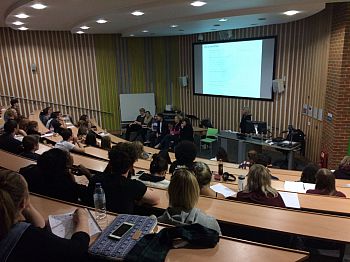 Application to Study Abroad workshops
During October we ran some workshop sessions to discuss the application forms to study abroad. We understand that timetables are different for everyone and considering the fast approaching deadline to submit the forms, students are welcome to come into the office at any time during office open hours (Monday - Friday 10:00 - 16:30).
Study Abroad Information Session
Thank you to those that came to this session. The room was nearly packed so we were very pleased to see all that interest! Here you will find the presentations we delivered:
Presentation on European links (incl. Morocco and Turkey), Central / South American links
Wednesday 13th May 2015 in Jubilee Lecture Theatre at 2pm: Study Abroad talk for 1st year undergraduate students.
Thank you very much to all participants for making the session such a successful one. And a special thanks to our returning students for their amazing contribution on that day! Here are some pictures of the event.
NEWS
Keep updated with the latest articles about study abroad by following us on Twitter and Facebook!
Read this article to see what one of our Sussex graduates felt she gained from studying abroad in Copenhagen as part of her degree and what she did next.
The head coach of the American football club at Sussex wanted to learn more about the sport to help his team improve. So last month, he travelled nearly 5,000 miles to the University of Arkansas.
Read this article in the Guardian newspaper to see what one of our Sussex graduates gained from studying abroad in Copenhagen and what she did next.
COMPETITIONS
2016/2017 Photo competition
The 2016/2017 study abroad photo competition is open to students studying abroad during this academic year (16/17).
We are looking for interesting photos taken during your time abroad. Past students have submitted pictures focussing on local culture, architecture and food as well as daily life as how it's lived. And of course we're always interested to see pictures of our students making the most of the opportunities their host country offers them! Further information will be sent to students currently taking part in a study abroad programme (including GESP students).
2016/2017 Video competition
We are pleased to announce that Sussex Abroad will be running again the annual video competition! We would like to encourange those students participating in a study abroad programme during 16/17 to represent and portray the experience of living and learning abroad by recording a video. Any aspect of their time abroad can be the subject of their video (culture, day-to-day life, university life, etc.) and this can be a documentary, time-lapse... creativity comes in many forms! Further information will be sent to students currently taking part in a study abroad programme (including GESP students).