Latest student news
Looking back at the Festival of Doctoral Research
Last week Sussex hosted its first Festival of Doctoral Research; over three busy days, visitors were inspired, engaged and challenged in a series of events celebrating Sussex's doctoral research. So much happened, it was hard to keep track of it all - but for those of you that could't make it, we've put together a brief recap.
Tuesday 26 June: Opening Talks
We kicked off our Opening Talks on a sunny Tuesday at the Attenborough Centre for the Creative Arts. Maintaining good mental health and wellbeing was the theme of the session, led by Brunel's Dr Fiona Denney (below), and Sussex's own Dr Jeremy Niven (Life Sciences) and doctoral researcher Joshua Hutton.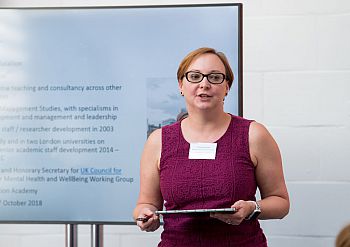 Dr Denney opened her speech by sharing quotes from an old diary, demonstrating the anxieties and insecurities experienced during her PhD. These quotes informed her subsequent recommendations regarding how to avoid the perpetuation of such feelings among the doctoral community.
Dr Niven, leader of Sussex's funded U-DOC doctoral research project, then spoke about PhD study as a creative, artisanal and highly individual project, at odds with our post-industrial and increasingly regimented society. This contrast, Dr Niven proposed, could be a factor in the recurrence of mental health problems among doctoral researchers.
Finally, Josh Hutton's insightful presentation adopted a researcher's perspective and emphasised the day-to-day activities researchers can undertake to be kinder to ourselves and others. Josh's final thought: "You know yourself better than anyone else – that's just the nature of being a conscious human being. So if you need help, seek help."

Wednesday 27 June: Public Engagement Pop-Up and Three Minute Thesis
In our Public Engagement Pop Up on Wednesday morning, a group of doctoral researchers and research fellows showcased the demonstrations and activities they had been using in order to engage and excite the external public. Sonali Mohapatra (below) dropped small metal balls into a fabric-covered hula hoop and somehow brought the inner workings of black holes to life for entranced visitors.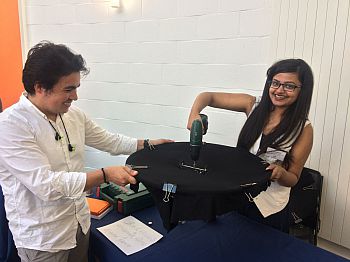 Across the room, Samantha Furfari performed the 'Colours in Chemistry demonstration she originally developed for February's 'Bright Sparks' festival. Pipette in hand, Sam mixed various chemicals into vivid hues before coaxing colourful bursts of flames from her Bunsen burner.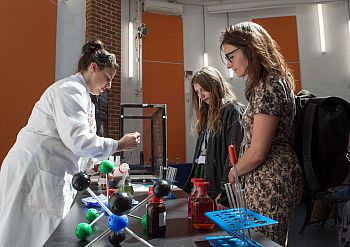 Later that day, an attentive audience gathered in the Attenborough Centre to hear six intrepid students present their thesis in under 180 seconds for our Three Minute Thesis competition. Presentations included Devin Clarke speedily relating the effects of a high-fat diet on the human brain, followed by Dorieke Grijseels' brief but virtuosic account of her research into 'place cells'. After deliberations, the top prize went to Jo Cutler for her succinct presentation on the psychology of charitable giving. People's choice award went to Ireena Nasiha Ibnu for her presentation of the experience of Malaysian Muslim female students in Manchester.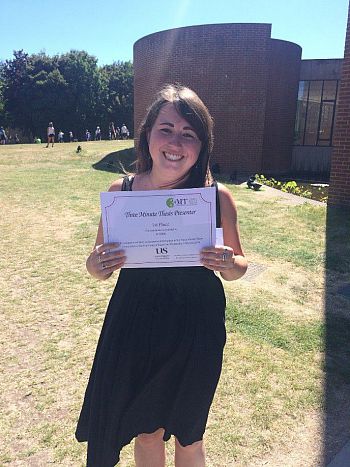 Wednesday 27 June: Research Image Competition
With doctoral researchers giving so much of their time and energy to the Festival, it was nice to give something back by awarding prizes to outstanding contributions.
For one of our most exciting contests, our Research Image Competition, we asked doctoral researchers to submit a single providing a visual perspective of their research. Of the many entries received, two were singled out as exceptional.
Tunde Alabi-Hundeyin took first prize in the 'fieldwork' category for his photograph 'Tug of Fun' (below). Tunde's research seeks to challenge stereotyping and oversimplifying media representations of children from the Global South. His inspiring image of a group of girls at the Durumi Camp for Internally Displaced Persons elegantly captured his key themes of hope and resilience.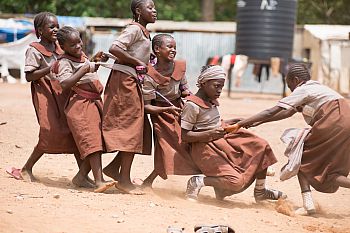 In the 'science' category, physicist Nephtali Garrido-Gonzalez took home First Prize for his image of a cloud of cold Rubidium atoms inside a high-vacuum chamber at Sussex's Quantum Systems and Devices Lab. The high-vacuum chamber makes atoms easy to manipulate, and Nephtali's research focuses on how we can use these atoms as a probe for sensing magnetic fields, gravitational fields, electrical fields and rotations to an extremely high level of precision, making way for the next generation of sensors based on quantum technology.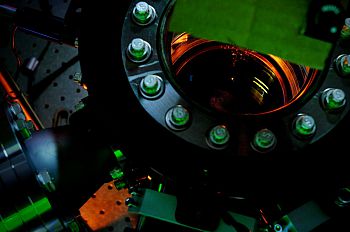 Both Tunde and Nephtali were awarded £300 towards their research in a special prize-giving ceremony hosted by Pro-Vice-Chancellor Professor Michael Davies. Congratulations to all our winners, and huge thanks to everyone who took part – you can see all entries for our Research Image Competition in our online gallery.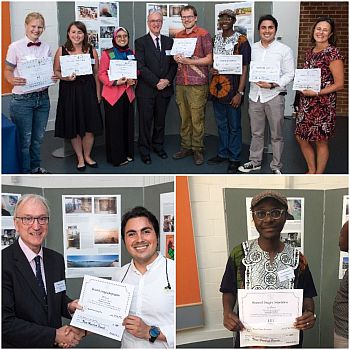 Thursday 28 June: Getting to know our doctoral researchers at the 'Living Library'
Happily, the Festival provided several opportunities for academics, professional services staff and students of all levels to meet, network and learn from each other in rich and rewarding encounters.
One such occasion came via our Living Library, a Festival highlight for all involved. Jointly organised by the Doctoral School and Sussex Library, the event turned visitors into 'readers' and doctoral researchers into living 'books' – each prepared to relate a story based on their own unique experience.
Of the 11 'books' on offer, we sat down separately with Sophie Valeix, George Byrne and Shanu Sadhwani.
Sophie, a third-year PhD student from IDS, gave her readers a thoughtful account of the mental health problems she had encountered during her doctorate, and offered advice for anyone embarking on a major project.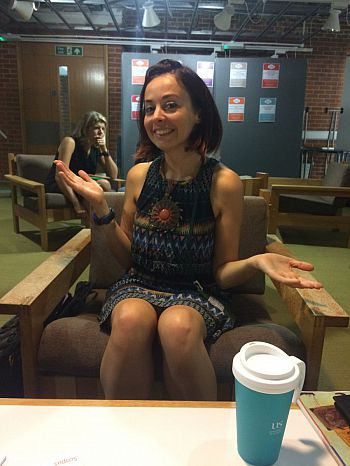 George, from the School of Global Studies, told readers of the frustrations he encountered during a difficult fieldwork experience in which his data collection did not proceed as expected. These frustrations shifted George's attention and fuelled a change in his PhD focus, which subsequently became increasingly concerned with the process of research and prioritising of certain forms of data. For anyone interested in the structuring of knowledge, George's story was a fascinating listen.
Finally, BSMS' Shanu Sadhwani provided readers with two stories: while explaining her research on the complications of diagnosing dementia, Shanu also shared techniques on maintaining a balanced lifestyle while also maximising productivity. In so doing, Shanu passed on invaluable knowledge to her peers.
Thursday 28 June: A goodbye BBQ
As we prepared to close the Festival with a sunny BBQ on Thursday afternoon, it was clear that it had showcased some of Sussex's best characteristics. We had seen innovative and impactful research being undertaken by engaged and socially conscious community of researchers. We'd like to extend a sincere thanks to all those who supported the Festival – we couldn't have done it without you. See you next year!
---