Latest student news
Staff and students join thousands of other runners for Brighton Marathon weekend
Staff and students joined thousands of other runners to take part in various events at the 2018 Brighton Marathon weekend (13-15 April).
Among the runners completing the marathon was Sophie King, a third-year law student who ran the 26-mile course with her dad Mark to raise over £860 for Macmillan Cancer Support.
"My mum was diagnosed with breast cancer and Macmillan bent over backwards for my family," said Sophie. "There is no way I could ever repay them, but running 26 miles seemed like a good place to start!" To add to Sophie's total, donate via her fundraising page.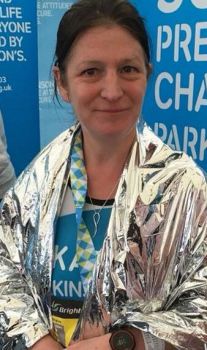 Dr Kathy Greenwood (left) from the Psychology department ran to raise money for Parkinson's UK. Kathy had to fit training around her busy work life, including a new multi-centre research project, her two children and organising her wedding.
"My mum has had Parkinson's for over 10 years and we benefitted greatly from the support of a local Parkinson's support group so I wanted to give something back," said Kathy. "Training for the marathon also had the added benefit that it will make sure I fit in my wedding dress come the big day in July!"
Kathy completed the marathon in 4 hours 43 minutes, an hour faster than her previous marathon attempt. Kathy has so far raised over £1,200; to contribute to her total, visit her fundraising page.
Chris Leiper (right), a staff member in the School of Business, Management and Economics who completed the marathon to raise funds for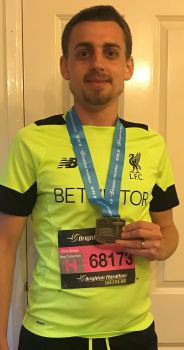 Newhaven-based Seahaven Wildlife Rescue, said: "The support from the spectators was absolutely incredible."
Would Chris do it again next year? "Right now my legs are telling me to not even consider it," he said, "but I'm not ruling it out just yet as it was such a great experience."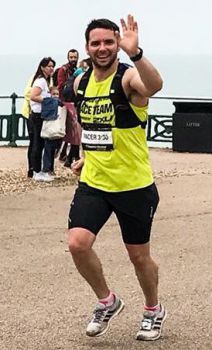 "It was an absolute joy," declared Kevin Betts (left) from the Student Recruitment team after acting as one of the marathon's official pacers (for runners going round the 26-mile course in 3 hours 30 minutes). And the day after, he was glad to report: "I can walk up and down stairs unaided."
Kevin, who was running in aid of the charity Mind, has completed every one of the nine Brighton Marathons up to now.
Another member of this elite running club is Jackie Rymell from the Equality, Diversity and Inclusion Unit. "It's always amazing – there's an incredible atmosphere," she said. Jackie, who beat her 2017 time of 3 hours 50 minutes by one minute, is already planning to be back for the 10th anniversary of the Brighton Marathon in 2019. "Next year's the big one," she said.
As well as the marathon, other running events were held during the weekend including a 10-kilometre course.
Undergraduate law student George Dixon joined more than 2,500 runners to complete the 10K. George has raised £100 for Crisis, a charity that supports homeless people living in the UK. You can add to George's total by visiting his fundraising page.
---
If you'd like to leave a comment, enter your ITS username, password, and your comment. The comment may need approval before it is displayed, so don't expect your comment to appear right away.
By submitting a comment you are agreeing to the Acceptable Use Policy.