Latest student news
Network maintenance next week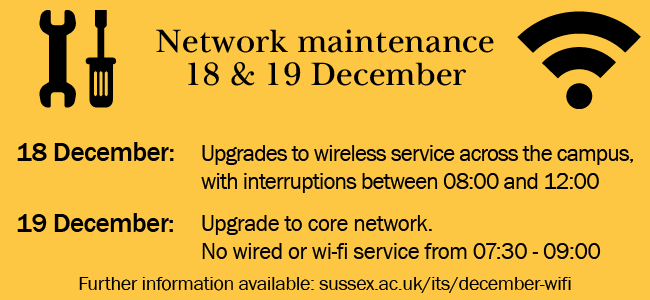 IT Services will carry out essential network maintenance on 18 and 19 December. This work will impact services, with interruptions to both wired and wireless networks.
Please note that both printing and e-submissions will be affected by this work, particularly on Tuesday 19 December.
See below for details.
Monday 18 December 08:00 – 12:00
The software that controls our wireless service will be upgraded during this time.
The upgrade will be rolled out in stages across the campus and all wireless networks will be unavailable as we work on each section in turn. Wired connections will be unaffected.
IT Services will provide additional news as they carry out this work to ensure that students and staff are aware which areas of the campus will be affected (click here to subscribe to the ITS News emails and follow ITS on Twitter).
Tuesday 19 December 07:30 – 09:00
During this time, essential upgrades will be made to our core network switches, meaning that there will be no access to the wired or wireless networks.
This work will impact all network-dependent services at the University, meaning that:
Staff will not be able to log on to University-managed desktop PCs or Mac computers
Students will not be able to log on to cluster room computers
Printing will be unavailable
The website will be unavailable both internally and externally
E-submissions of work will not be available
Jukebox Applications will be unavailable
Skype for Business phones will be unable to connect
There will no access to data storage
Established connections (file transfers, ssh connections, etc.) will be disrupted
Network performance may take an hour or so to return to normal after this work has been completed.
---