Housing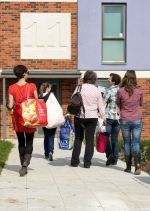 Q: When will I find out where I'm living?
You should hear from the Housing Office during August and early September with details of your residence and an accompanying residence handbook. If you need to ask any questions in the meantime the best way to contact them is by email on housing@sussex.ac.uk
Q: Can I change my room?
You can go on the room 'swap list' which will open on the first day of term in the Housing Office in Bramber House. There is a small charge for this service. See the Housing Office website for further information.
Q: What furniture will be provided?
As a guide, a typical room will have a single bed, desk, desk lamp, chest of drawers or bedside cabinet, chair, wardrobe, bookshelf and possibly a wash basin.
Q: What will be provided in the accommodation?
All study bedrooms are furnished, equipped and centrally-heated but you will need to bring items for your personal use such as crockery, cutlery, towels, sheets, duvets and pillow cases. There is also a telephone in each bedroom (in campus accommodation and Kings Road) which you can use to make both internal and external calls. A leaflet on how this service works is available in all the main accommodation hall receptions. Most rooms have a washbasin and there is a select number with en-suite facilities but this will cost you more. For a full breakdown of what to bring, please refer to your Residence Handbook.
Q: Do I have to move in over the weekend of 15th and 16th September 2012?
It is important that new undergraduate students in University-managed accommodation move in during this weekend so they can settle in properly with the help and support of the numerous University Helpers and also so they are ready for Induction Week's compulsory activities. Postgraduates have up until noon on Wednesday 19th September to arrive. If you are going to arrive later than this, you MUST inform the Housing Office or your accomodation will be reallocated unless you have informed us of your late arrival in advance.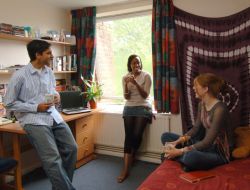 Q: Is there anything I should not bring?
For health and safety reasons we request that you do NOT bring any chip pans, portable radiant electric fires, gas and liquid fuel heaters, 3-way electric adaptors, pets, illegal substances, candles or joss sticks as they are banned from the residences. For more information refer back to your terms and conditions of your tenancy agreement.
Q: Can I put posters and paintings on the walls?
You must not mark the walls in any way so that includes putting nails into the wall, using sticky tape/masking tape and Blu-tack (note that white tack is allowed). Rooms have been fitted with notice boards to which posters etc can be added.
Q: Where can I get pots, pans, cutlery etc?
Catering packs, which include basic crockery and cooking equipment can be purchased for £32 from York House, Stanmer Court and Kings Road on arrival. Please note, cash will not be needed, the charge will be billled to your university student account.
The supermarkets on campus have a limited amount of kitchen equipment you can purchase but if you need more specific items you can purchase these in the town centre. Please note: food outlets on campus are generally closed in the evenings and all residences are self-catering.
Q: I've forgotten to bring any bedding, what can I do?
You can purchase a bedding set comprising of a duvet, duvet cover, fitted bottom sheet, pillow case and pillow from your porter for £35 (cash will not be needed, the charge will be billed to your student account at the University). Laundered bedding can also be purchased for £25 from York House.
Q: What is the television reception like on campus?
The majority of rooms at the moment do not have a television aerial point so good reception cannot be guaranteed.
Q: Does everyone living in my Halls of Residences require an individual TV Licence?
You will also need a TV Licence (currently £145.50 per year), if you are watching or recording TV as it is broadcast on any device, including TV, PC, laptop, tablet or any other. Further information is available from the TV Licence website or call 0300 790 6090.
Q: Can I get an internet connection from my room?
All on-campus study bedrooms on campus have a network link to ResNet, as does Kings Road residence off-campus. The following off-campus accommodation all have Wi-Fi connectivity - York Avenue, Florence Road, Windlesham Road, Victoria Road and Cliftin Road. In addition there are 24-hour computer suites located on campus in The Library, York House, Shawcross, Pevensey 1 and JMS.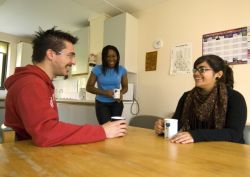 Q: What cleaning services/facilities are provided?
You will have cleaning equipment provided which will include a vacuum cleaner, an iron, an ironing board, dust pan and brush. Communal areas will be cleaned weekly.
Q: What laundry facilities would be available to me?
The main laundrette is situated in Park Village and contains coin operated washing and drying machines. You can also purchase a service wash on weekdays. Lewes Court, Stanmer Court and Northfield also have coin operated launderettes. Brighthelm has it's own washing and drying machines in each accommodation.
Q: Can I smoke in the accommodation?
Residents or their guests may not smoke inside any University building or in the entrance to or close to windows / vents of any building, including the Residences. This rule includes a ban on smoking within individual student bedrooms. Failure to comply with this regulation will result in disciplinary action being taken.
Q: Can I get a single sex accommodation?
There is a limited number of female only accommodation. For more details contact the Housing Office.
Q: Do students have a curfew for when they should be back in the Residences?
No, there is no University curfew for when students should be back on campus.
Q: Can I have visitors to stay?
You may, although not for a period of more than a few days at a time. Please inform your porter when you are having a guest to stay, so that he can add their name to the fire register.
Q: Will I have to pay Council Tax?
Students living in University-managed accommodation are exempt from paying Council Tax, as are students living in student-only accommodation off- campus.
Q: Where do I collect my mail from?
External mail is to be collected from the Porter's Lodge for your residence. Internal mail (eg from your Department) will be put in your pigeon hole in your School of Study or Graduate Research Centre area.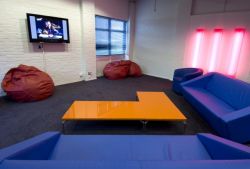 Q: Where will I collect my keys from?
Upon arrival you will collect your keys from your residence's Porter if you are living on-campus, or in Kings Road if you are living in any off-campus residence. Please ensure you bring with you your signed tenancy agreement which you will need to hand over.
Q: I'm going away for a few days. Do I need to inform anyone?
We would advise you to inform your neighbours so that if you don't return for whatever reason they can then inform someone else.
Q: What do I do if someone living near me is making a lot of noise or causing a disturbance?
Firstly you should try and speak to the person(s) involved if possible or to your Residential Advisor (RA). If the problem persists then contact your Porter or Security on 01273 678234.
Q: Are there any places my parents can stay near the campus while I'm moving in over the weekend?
For an up-to-date list of hotels and guesthouses in Brighton and Lewes, please visit our list of University of Sussex approved hotels
Q: Where can I get advice about renting accommodation off campus?
The Students' Union has lots of housing advice including practical tips on finding accommodation, information on your rights as a tenant and what to do if you have a problem.