When you arrive
Most new students (except early arrivals for CPE and pre-sessional courses) will arrive on Saturday 14 September or Sunday 15 September. If you are arriving over this weekend, you can be sure of finding a whole host of people to welcome you to your new home.
What to do when you arrive:
Find your bearings

We have four welcome teams working across campus, with the Red Team (run by the Students' Union) helping you find out about all of the events that the Students' Union are running.

Collect your Student ID card

This gives you Library access and entitles you to student discounts (you will have been given the location for collecting your card when completing online registration).

NOTE: If you were unable to complete online registration before arriving, then you will not be able to collect your Student ID card until you have completed in-person registration.

Register with the University Health Centre and Dentist Surgery

Our helpful doctors and nurses will make sure you get the best treatment if you ever need it. If you haven't been able to register online before you arrive you can still register when you get to Sussex. Also see Your health action plan. University Health Centre and Dentist Surgery

Check out the Freshers Fair

Visit the Students' Union's Freshers Fair to find out about sports clubs, societies and more

Attend some of the Signposting events

Go along to the signposting events designed to help you settle in to life at Sussex.

Have a look at the Students' Union top tips

Take a look at the Students' Union's tips for other things to do once you've arrived

Attend the induction activities

Keep an eye on your academic induction timetable on Study Direct to make sure you don't miss out on any compulsory sessions (they're good for you, honest). Your school will also be arranging some social activities which they should be contacting you about before you arrive.

Get online

If you have any problems accessing the Sussex network when you arrive you can drop into ITS in the Shawcross Building at the following times:


Saturday 14th and Sunday 15th September - 12pm to 7pm
Monday 16th to Friday 20th September - 9am to 7pm


You can also see the Getting Online induction webpages for more information to help you with computer and connection related matters.
Vice-Chancellor's Welcome Reception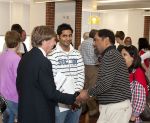 The Vice-Chancellor and senior officers of the University invite new students and their guests to join them for refreshments in our Conference Centre, on level 3 of Bramber House. You are welcome to attend at any of the following times and the Vice-Chancellor will give a short welcome address at each.
Saturday 14 September: 2-2.45pm, 3.15-4pm, 4.30-5.15pm
Sunday 15 September: 2.30-3.15pm
Sussex Signpost
Information sessions to help you become a Sussex Student
These drop-in sessions will have teams from across the University leading information sessions and workshops, from settling in and making friends to getting involved in campus life. There will also be information stalls where you can talk to staff, and you can enjoy some fun giant garden games on the grass outside with new-found friends.
Find out more about Sussex Signpost Sessions

Students' Union events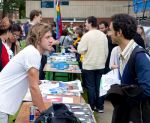 Hopefully you will have plenty of energy left after all your unpacking to try out one of the many Students' Union events happening over Welcome Weekend - music and comedy at East Slope Bar, chill out at Falmer Bar or a campus tours led by one of the students in the red Welcome Team. The Students' Union Welcome Team will be running campus tours from Bramber House throughout Saturday 14 September and Sunday 15 September, come and join a tour for a great way to find your way around the University and learn more about the facilities available.
Getting started at Sussex
You should also have a Getting started at Sussex induction session during your first week which will cover things like: putting credit on your printing account, accessing your Sussex email, using Sussex Direct and Study Direct, using the Sussex Mobile web app and how to find and use the Library. See your induction timetable to find out when your School session will take place. around the University and learn more about the facilities available.
Fireworks finale and BBQ!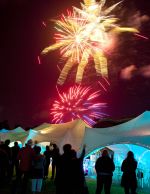 Friday 20 September, from 6.30pm, Fulton Court, next to the Library

Celebrate the start of the new academic year and ensure your Fresher's experience ends with a flourish! With spectacular fireworks and tasty food it's a chance to relax after a busy week - and have some fun with your new classmates. The BBQ is due to start at 6.30pm. with the fireworks from 7.30pm
It could also help whet your appetite for the famous 5 November bonfire celebrations in nearby Lewes, when six competing bonfire societies parade the street with fireworks and flaming torches for the entertainment of 70,000 visitors – a great spectacle, though not for the faint-hearted!