Flint 8 May > Welcome to Flint!
I'm a Digital Guru - and I love it
It was early October and I was swiping through Facebook endlessly letting out a small scoff at videos of dancing cats. In the background, Netflix was asking me if I was still there. 'Yes, Netflix! Let me binge watch my show' I said to myself. I was stressed out from Uni and needed some income (and a life) at this time.
As I carried on through the depths of Facebook, I came across a post by the University of Sussex. 'Are you digitally savvy?' it asked. 'Yes…' I replied, laughing at the idea of a role where I'd be called a Digital Media Guru. I continued to read and became more and more invested in the idea of a role which is pretty flexible, pays money AND lets me be creative. 'What the heck!' I thought, as I applied.
A week or so later, I heard back and was invited for a group assessment consisting of 22 applicants, carefully selected among 100s of others. Was I nervous? Hell yeah! The assessment day consisted of group tasks as well as individual content creation to show our stuff (some examples below).
About a week after this, I found out I had got the role! I was officially a Digital Media Guru, a role that many of my friends laughed at yet were also impressed that I could now call myself a Guru of something.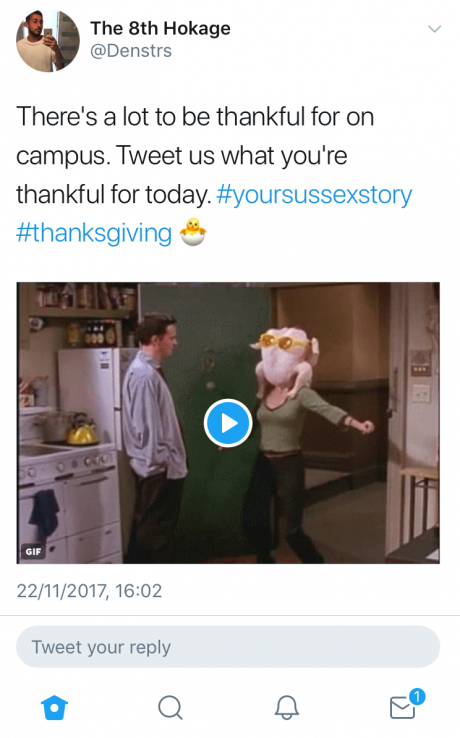 Starting the role, I got to attend many different cool sessions and record content for the University's Snapchat, Instagram and Facebook with six other Gurus where we'd work together to basically do what I'd do any day (go on social media) but get paid for it! I got behind the scenes opportunities in different events at the Attenborough centre and lots of training to build me up to become a better version of myself. It was never really the same thing each day, one day I'd be filming a Facebook live or interviewing someone and another I'd be writing a script for a Robot Series!
Of course, as soon as I began my role, I put it straight onto my CV and LinkedIn. Although I previously struggled in finding a role due to a 'lack of experience', I got an interview at a publishing company in the Marketing department who were very impressed (and curious) about what being a Digital Media Guru entailed. Since then, I am now working in London Bridge as a Digital Content Assistant, applying experience and skills gained from my time at Sussex.
The abilities I accumulated as well as meeting a vast range of different cool individuals that I would've never even crossed paths with before, made this role one that I have never regretted applying for. It opened up a door in terms of job offers as well as really letting me know what I want to do in the future.
I had nothing to lose by applying, but little did I know, I had a huge deal to gain by doing so! If you're a digitally savvy and creative person who wants some income that fits around University, make sure you apply when the current scheme comes to an end!
You may also be interested in: