Flint 2nd October > Welcome to Flint!
Are you passionate about social justice?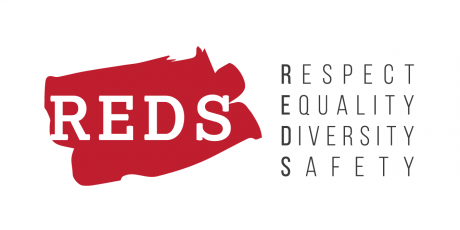 Are you passionate about social justice and gender equality?
Do you want to develop invaluable skills that will enable you to make a difference in the world?
Do you want to be part of an innovative, exciting new programme that will make positive changes in the Sussex community?
People of all genders - including men - suffer from the effects of gender discrimination, and we all need to work together to prevent it.
The REDS programme will train you as a facilitator with the knowledge and skills to run activities with students and staff on campus to tackle gender discrimination and violence. In the process, you will also develop transferable skills in communication, public speaking, leadership and teamwork. No previous experience is required, and you do not need to be an expert on gender to apply.
In the Autumn Term, trainee REDS Facilitators will receive one 2.5 hour-training session per week (Tuesday or Thursday 5-7.30pm) starting in week 3 and one full-day workshop (weekend of 11-12 November). You will develop the skills, tools and confidence to plan and deliver workshops and other activities on campus during Spring Term, for which you will also receive a stipend (payment).
You can find out more about the REDS programme, and how to apply, in a few different ways:
- Visit www.sussex.ac.uk/wellbeing/reds or our Facebook page fb.me/SussexUniREDS
- We will also be supporting the marvellous show The Ruby Darlings Present… Let's Talk about Sex. The 5* Award Winning show gives an outrageously honest yet totally sexy look at life with a vagina. The comedy cabaret artistes supported by their divine pianist, David, offer guidance on a journey into uncharted sexual territory. The darkly comic Ruby Darlings are committed to making men feel educated, women feel empowered, and generally everyone having a naughty time.
- For all enquiries email Alon at: reds@sussex.ac.uk
You might also be interested in: