Flint 2nd October > Clea Hauser Case Study, in her own words:
Clea Hauser Case Study, in her own words:

I'm Clea and I was the Social Media and Communications Graduate Intern for Active US, with Sussexsport (2016 to 2017). I decided to apply for the one year internship having seen it advertised at the University, during my final year of studying Media Practice for which I graduated with a first in 2016.
What I learned during my degree linked fantastically with the graduate internship with Active US. This, combined with knowledge I had gained from attending sessions and workshops run by the Careers and Employability Centre (CEC), meant I had my CV ready and was able to apply confidently, write a coherent cover letter, and prepare effectively for the interview – this made the process a lot less nerve wracking.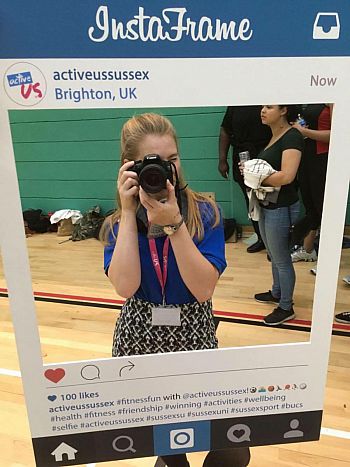 My main responsibilities involved designing print and web graphics (posters, loyalty cards, etc.), photographing events, promotional video making, managing the Active US website and blog and social media channels. Key projects I worked on included creating videos for This Sussex Girl Can week, and One World Week – this was my most successful video campaign, totalling 6,600 views in One World Week. Other key projects included running the 50,000 visits campaign and introducing the hashtag #LoveActiveUS.
One of the highlights was seeing everyone use our hashtag and interact with things I'd created on social media. It was such a positive experience as it's so rewarding seeing everyone get excited about Active US. I felt like I was making a difference which kept me motivated. I've benefitted from training too, which has given me great professional skills. The Sussexsport department was a great environment to work in and I really loved working with such a down to earth team.
I would recommend an internship to all students trying to get a better idea of what they want to do. Being an intern can be pretty daunting at times though, so for anyone coming into an intern role at Sussex, I would recommending the Intern Forum. They have meetings where they share experiences of their internships, tips and best practice, which makes you feel part of a community.
Being an intern reaffirmed my aspirations of delving into the digital media industry, and I have been able to build my portfolio throughout the year, which has made me confident enough to publish my work on my own website. I've also been lucky enough to continue working since leaving the role, and have been busy doing freelance work for companies including Sussexsport, The Buddy Scheme and Sussex FA's Disability Football League.
This experience has definitely helped sharpen my skills and strengthen my creativity, and I feel much more confident and capable having done this internship. I used to struggle to work in a busy environment, but this year I've learnt to adapt and even thrive on it now! I'm so grateful for Active US and how it's shaped my future career path.
Clea Hauser
You might also be interested in: