Flint 13 November > Welcome to Flint!
Three reasons to get involved in the Student Barometer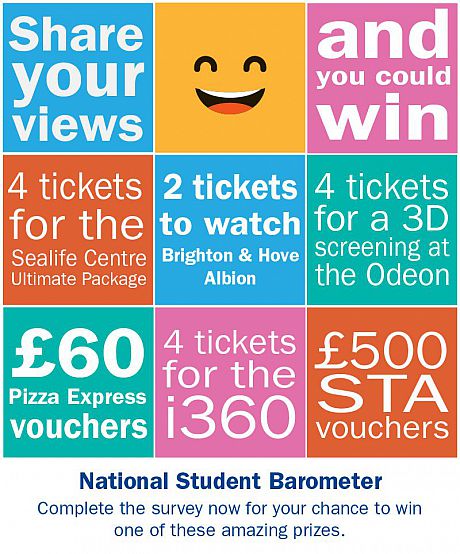 It's been two weeks now since the Student Barometer launched for all students in the University and so far the response has been fantastic with over 3000 students having already given their feedback of their Sussex experience.
However, we want many more students to share their experiences of being a student at Sussex to equip the University with everything it needs to make your University of Sussex experience even better than it is now.
So, to tempt you with your time, here are three reasons why you should stop what you are doing and complete the survey.
Immediately.
Your view really does count
You may have heard this before in numerous other surveys but your view really does count. The feedback that the University gains from this survey will be acted upon as soon as possible - not in a few years' time - so you could start to see immediate action to the things you say. We want your student experience to be the very best it can be, so we will do what it takes to make it even better – depending on the feedback we get.
Be in it to win it
The chances of you being lucky and winning a prize for responding to this survey is high. In fact, every week we will be choosing 15 lucky students who have already responded to the survey the chance to pick from these amazing prizes:
• 2 x tickets to an allocated Brighton & Hove Albion Premier League football match
• 4 x tickets for a 3D screening at the Odeon
• 4 x tickets for the Sealife Centre - 'Ultimate Package'
• 4 x tickets for the i360
• £60 Pizza Express voucher
On top of that, when the survey ends at the end of November, two lucky students will also win a £500 STA travel voucher. You really do not get better than that.
It takes about 10 minutes
What can you do in ten minutes? Watch ten cat videos on Facebook back to back? Watch the first ten minutes of the new series of Stranger Things? You could even make a cup of coffee...from scratch.
But where else can you find something do in 10 minutes that could potentially improve your student experience, give you an immediate voice in deciding some key decisions AND provide you with over 45 separate chances to win all the prizes noted above?
It's a no-brainer, right?
You might also be interested in: