Appointments
Appointments provide space for you to get support with any aspect of your life. Appointments are always held in private rooms. There is no need for you to disclose private information in the public space.

Important information – from 23 March when Sussex teaching moves online.

Student Life Centre services continue but the team are only able to respond to email enquiries at this time.

We're very keen to support you, so please do get in touch by email on studentlifecentre@sussex.ac.uk.

We are sending you our best wishes.
What can I expect?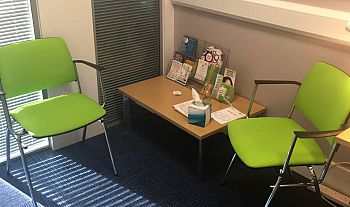 Appointments with Student Life Advisors or Student Money Advisors usually last up to 30 minutes. They normally need to be booked in advance, but
can often be made on the day.
Our Advisors are trained to support students with a range of both emotional and practical matters.
The kinds of things students come to see Student Life Advisors about include: feeling homesick, having difficulties settling in, feeling things aren't going the way you'd expected, housing problems, feeling anxious about seminars, concerns about study skills, money worries, health concerns, and many other situations that may be impacting on your studies. There might be a specific issue you want advice on, or perhaps you are feeling conflicted and there is something you'd like to talk over.
An appointment with an Advisor can also provide you with information and assistance with University processes, such as taking Temporary Withdrawal (a break from your studies).
The kinds of things students come to see Student Money Advisors about include: funding delays and disruption, funding shortfalls, debts, gambling, money worries, improving financial capability and planning a budget.
Remember, we are here to offer advice and guidance on issues or concerns you may have throughout your time at Sussex.
Who can I see?
We have seven Student Life Advisors, each linked with particular Schools of study and with specific training specialisms. You can book an appointment with the Advisor linked to your School, but it is also fine to see one of the other Advisors if that is more convenient.
Appointments can also been made to see someone from our Student Funding Team or our Student Money Advisors.
How do I make an appointment?
Use one of the following methods.
Sussex Direct: The easiest way to book is through your Sussex Direct page
Select an appointment with a Student Life Advisor or Money Advisor to suit your timetable
By phone: 01273 876767
By email: studentlifecentre@sussex.ac.uk
In person: visit the Student Life Centre's information desk in Bramber House, Monday to Friday 9-5pm
If for any reason you find yourself unable to book an appointment, call or email with the times you are available and we will try to accommodate your needs. If you have immediate welfare concerns and need to be seen urgently, come to one of our Welfare Drop-In Sessions.