2018 staff survey
The University's staff survey steering group are coordinating and leading institution-wide actions in response to the results of the most recent staff survey in November 2018. See a summary of the institutional Staff Survey Action Plan.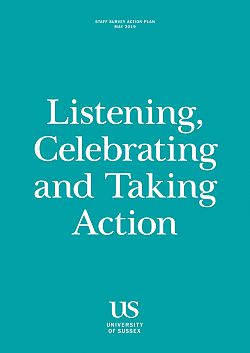 For example, to address bullying and harassment an institutional action group is overseeing the introduction of a new Dignity and Respect policy. The policy includes a raft of proactive actions including an expanded training programme and other interventions such as the introduction of Dignity Champions across the University.
Other actions focus on ensuring staff feel safe to speak up and feel valued, on enhancing collaboration between staff, and on providing the most effective leadership.
A wide range of new initiatives that have been introduced will also make a real difference to the ways in which we work and the opportunities that staff have access to. These include '
Flexible Sussex
', a new
mentoring
scheme, new
training and development
opportunities, and
welfare and staff discount schemes
.
In addition to these changes, each Head of School and Divisional Director has responsibility for their own local staff survey action plans. We will be following up on the main themes arising from the survey with staff focus groups, which will enable us to better understand the specific issues and concerns, thereby tailoring our responses in order to improve.

We have plans to conduct staff surveys more frequently so we can keep a much closer tab on the progress we are making. The next one is planned for summer 2020.