Totally Wiped Out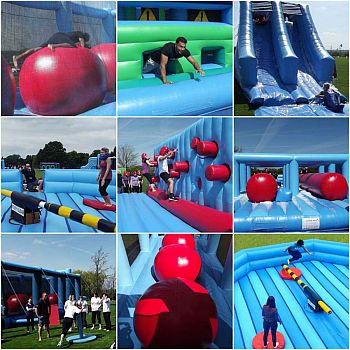 The Totally Wiped Out tournament will start at 12.45pm and finish with prize giving for the winning teams at 3.00pm.
Spaces are limited; if you would like to enter please use the following booking link.
When booking for the tournament please either select:
Totally Wiped Out - Meat option, or

Totally Wiped Out - Vegetarian, Vegan, Dairy or Gluten-Free option.
Lunch for everyone taking part in the Totally Wiped Out will be at 3.15pm.
Those who enter will be split into teams of 8-12 to compete. If you would like to be on a team with a specific member of staff, please notify us and we will do our best to accommodate this.
Schedule:
12.45pm: Kick off
3.00pm: Finish/ Prize giving
3.15pm: Lunch
Prizes
Prizes are gold, silver and bronze medals for the top three teams and a bottle of champagne for the winning team.
The tournament
Sweeper Arm

Climb the pedestal, don't fall off. Simple. Oh, did we mention the giant rotating arm trying to sweep you off your feet? Tons of fun and a great relay game. You'll go head to head with an opposing team member: the winner of each round is the one who stays upright the longest… Not as easy as it sounds!

Punch Wall

Scramble across the horizontal inflatable climbing wall without touching the floor… Easy, you say? It would be if it wasn't for your opponents punching inflatable rods through the wall to knock you off! Hang on for dear life and win points in the relay!

Obstacle Course

More than just your classic obstacle course… You'll be going head to head against the opposing team in a continuous relay, negotiating the inflatable and ground-based obstacles we've put in your path. Only there's a surprise in store at the beginning that just might slow you down from the get-go…

Drop and Drift

Ever wondered what a curling stone feels like? Now's your chance to find out for yourself! Drop yourself down a
foamy slide as far as you can get, and you'll score points for your team based on your distance. Teams compete against each other in relay.

Tricky Trunks

Make like a monkey and shimmy along the Tricky Trunks – two huge slippery inflatable tubes! If you can cling on despite the foam, you're in with a chance of winning! Teams race head to head in a continuous relay.

Bed Red Balls

Have you got the cojones to beat the Big Red Balls? Leap like Indiana Jones from ball to ball to qualify for a victory slide at the end. If you don't make it, you'll have to scramble back up and try again. We can install two Big Red Balls courses for your event so you can have two teams racing against each other.