Research news
Announcing the Junior Research Associate Scheme for 2023
By: Katy Stoddard
Last updated: Thursday, 2 February 2023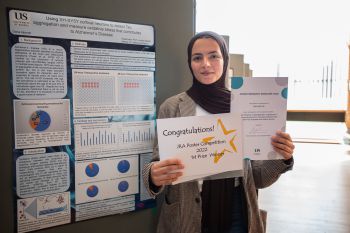 **Please note the date of the launch has changed to Monday 13 February in light of the industrial action**
Recruitment for next summer's Junior Research Associate (JRA) scheme will open with a launch event on 13 February. The scheme is open to students in their second year of undergraduate study, or second or third year of a four-year degree.
JRAs receive a bursary to undertake an eight-week, full-time research project over the summer months, working with academic supervisors to contribute to cutting-edge research across the university.
The aim is to inspire and excite undergraduates about the possibility of postgraduate study, widen participation in research, and give students the best chance of success if they choose to follow that path.
In 2022 we funded 96 Sussex undergraduates and international JRAs, culminating in a research poster competition and exhibition. Dana Aljarrah (Life Sciences) took the top prize for a poster and presentation on using cortical neurons to study a potential cause of Alzheimer's disease. Sam Husk (Media, Arts & Humanities) came second, for a poster on clothing choices and gender identity, and BSMS awarded Melissa Rajalingam for her poster on informal dementia carers.
Interested in becoming a JRA, or a JRA supervisor? See the Undergraduate Research Office website for further details, including FAQs and information on the application process. If you are considering proposing your own project we have put together guidance on how to approach a supervisor. Details of the launch event will follow in January.
Further information: http://www.sussex.ac.uk/suro/jra