Research news
Could you present your PhD in just three minutes? 3MT competition returns to Sussex
By: Katy Stoddard
Last updated: Tuesday, 12 July 2022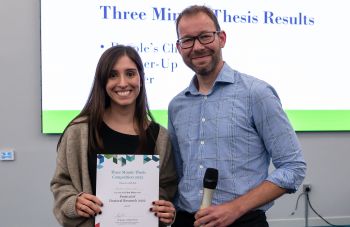 On Thursday 9 June, PhD researchers from very different academic fields gathered in the Student Centre to share their research with an enthusiastic crowd, as the Three Minute Thesis (3MT) returned to Sussex as the centrepiece of the Festival of Doctoral Research.
The 3MT challenges presenters to communicate their work to a non-academic audience, condensing their 80,000-word thesis into just three minutes.
Delivering their talks with the aid of just one static slide, the audience heard from:
Grazia Ragone (Engineering & Informatics)
Karen Hiestand (Psychology)
Jonathan Sadler (Brighton & Sussex Medical School)
Norah Sarhan (Engineering & Informatics)
Jorge Ortiz Moreno (Institute of Development Studies)
Belinda Zakrzewska (Business School)
Karen Patterson (

Brighton & Sussex Medical School

)
Jilan Wei (Media, Arts & Humanities)
This year's judging panel, ably chaired by Dean of the Doctoral School Prof Jeremy Niven, included Dr Erika Mancini (Research Staff Office), Dr Edward O'Garro-Priddie (The Brilliant Club) and Dr Sushri Sangita Puhan (ESW Honorary Research Fellow and former 3MT runner-up).
Everyone impressed but there can be only one winner, and this year the award went to Management PhD candidate Belinda Zakrzewska, who wins £500 towards her research and goes forward to the national Vitae semi-final. Belinda's talk on the appropriation of indigenous Peruvian cuisine was informative, confident and really encapsulated her research – not easy to do in 180 seconds!
Jorge Ortiz Moreno was runner-up (£250), for an excellent talk about the possibilities of rainwater collection in Mexico City, and Karen Hiestand won the People's Choice Award (£250) with her plea in favour of dogs, not cats, as the most empathic companions.
We'll be adding some of the talks to the RDP Canvas site and 3MT webpage shortly. You'll find abstracts from all of this year's presenters there.
Winning abstract - What's cooking behind my guinea pig ravioli?
In Peru, indigenous products such as the guinea pig that have been regarded as food for peasants by the elite class are being transformed into delicacies by local elite chefs. They claim that their culinary inventions, such as guinea pig ravioli, are authentic because they combine ancestral traditions with creative skills. But, what lies beneath these discourses? My research reveals that elite chefs' authenticity claims shape long-standing social divisions between local elite and indigenous groups. These findings advance our critical understanding of what is cooking behind new cuisines that are simultaneously local and cosmopolitan.
All images: Stuart Robinson.
Further information: http://www.sussex.ac.uk/internal/doctoralschool/researcherdev/threeminthesis