Research news
Celebrating 60 years of Sussex Research
By: Sephora Imomoh
Last updated: Thursday, 17 March 2022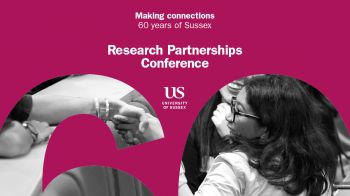 On March 9th we were delighted to host the Sussex at 60 Research Partnerships Conference, the conference is one in a series of events celebrating our anniversary as an institution.
The event which was opened by Pro Vice Chancellor Keith Jones and Professor David Sweeney, the Chair of Research England, provided a keynote celebrating Sussex's rich research history as well as what we can expect of the post brexit UK research landscape.
Across five sessions, the conference was attended by over 260 participants. Workshops explored our research collaborations in Neuroscience and AI, Health and Wellbeing, Equality and Justice, and Sustainability with Sussex researchers and their partners showcasing their work from across the globe.

Deputy Pro Vice Chancellor (International) Prof. Richard Follett stated 'It was wonderful to see our international partners and friends celebrating with us over the five sessions of the conference. We thank them for their time and look forward to welcoming them to our future events soon.
Speakers at the event included academics from the following partners, We were delighted to host speakers from a range of organisations and institutions - the University of Bern, (Switzerland), Mahidol University, (Thailand), Nazarbayev University, (Kazakhstan) University of Cape Town, South Africa, Nature, and Art Foundation, (Ecuador), Universidade Federal Da Bahia, (Brazil), Not1More, Brighton and Sussex Medical School (UK) New Guinea Binatang Research Centre, (Papua New Guinea) Addis Ababa University (Ethiopia) the University of Khartoum, (Sudan) the University of Rwanda, (Rwanda) and the University of Sussex team.
Many thanks to Sussex academics, Professor Melanie Newport, Professor Anil Seth, Professor Thomas Nowotny, Professor Andy Philippides, Professor Paul Statham, Professor Mario Novelli, Professor Joseph Alcamo, Dr Mika Peck, Dr Evan Killick, Professor Alan Stewart, and Professor Gail Davey who led and delivered fantastic sessions at the event.
The Global Engagement team delivers annual events bringing together Sussex and her partners for impactful conversations. To find out more about Sussex Global Engagement, visit our website https://www.sussex.ac.uk/global-engagement/news-and-events.