Research news
Sussex scientist announced as winner of prestigious Neuroscience research award
By: Jessica Gowers
Last updated: Tuesday, 8 February 2022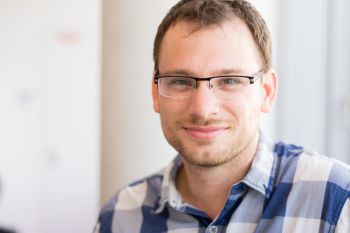 A Neuroscientist at the University of Sussex has received a highly prestigious research award for outstanding scientific work.
Awarded once every two years, the Boehringer Ingelheim FENS Research Award is given in recognition of outstanding and innovative scientific work from all areas of Neuroscience research.
Professor of Neuroscience Tom Baden was announced as winner of the 2022 award, which is open to European researchers, along with Professor Tatjana Tchumatchenko of University of Mainz, Germany.
Professor Baden said: "I am honoured to share this with Prof. Tatjana Tchumatchenko. It is a most delightful acknowledgement of the work we have been doing over the past five years or so since arriving at Sussex. A huge thanks first and foremost to the lab, as well as the many colleagues at Sussex Neuroscience and beyond, without them this would have not been possible."
The award will be presented during the FENS Forum on 9-13 July 2022 in Paris, where the awardees will deliver a special lecture.
Research in the Baden Lab aims to better understand how different visual systems have evolved to optimally process their natural surroundings. In order to do this, Professor Baden studies how the retinas of different animals, that live in different environments, vary in terms of structure and function.
His research provides a greater understanding of how vision and neuronal networks work and how this differs across animal species.
Professor Claudio Alonso, Subject Chair for Neuroscience in the School of Life Sciences, said: "We are very proud and delighted to see the increasing success of Professor Baden as a world leader in vision research. We are also happy to see that the neuroscience community at Sussex has been able to nurture the work of Professor Baden and his team with the right intellectual and professional setting, so that they can continue producing original research of the highest international standing, and attract sustained global recognition such as the one demonstrated by this prestigious award from Boehringer Ingelheim FENS".
Professor Baden joined the University of Sussex in 2016 as a Senior Lecturer in Neuroscience and in 2018 was promoted to Professor. In the recent years he has received multiple prestigious prizes, including the Eppendorf Prize, the Sir Philipp Leverhulme Prize and the Lister Institute Research Fellow Prize.
The Federation of European Neuroscience Societies (FENS) represents more than 20,000 European neuroscientists. Its activities span five broad areas: scientific meetings, higher education and training, the European Journal of Neuroscience, outreach and advocacy and membership.
The Boehringer Ingelheim FENS Research Award is sponsored by Boehringer Ingelheim, a research-driven pharmaceutical company dedicated to improving the health and quality of life of humans and animals.
To find out more about the 2022 award, visit the FENS website.