Latest staff news
Updating students on their education and feedback
By: Harvey Atkinson
Last updated: Friday, 18 September 2020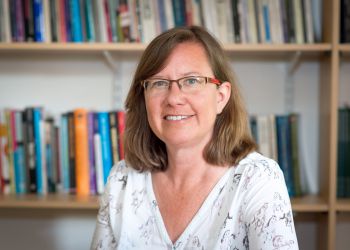 Today (18 September), Pro-Vice-Chancellor for Education and Students, Kelly Coate, sent her regular weekly email to all Undergraduate and Postgraduate Taught students. You can read the full email here:
Dear students
I hope you are well.
Despite it being mid-September there are still wildflowers blooming on campus, and combined with unseasonably warm weather the campus looks as beautiful as it did at the height of summer. I hope that whether you're currently studying, working, or enjoying a break, that you have also been able to enjoy the sunshine. For those of you who are soon to return to Sussex I have some reminders and updates for you.
Accessing important information for students
I've spoken previously of our plans to re-open campus and I would like to remind you to continue to view our Student Hub pages every few days, as they are full of information and regularly updated to help new and returning students prepare for and settle into the new academic year. They also contain comprehensive information on how we are keeping campus safe, and how you can make the most out of your student experience.
Our Community Pledge
Yesterday you will have received an email from me about our Community Pledge - it's a really important way of demonstrating our shared commitment as students and staff to look after ourselves and each other. By publicly signing up (on the Student Hub) you are showing your support to each other, acting with mutual respect and care, and upholding the Sussex values of Kindness, Integrity, Inclusion, Collaboration and Courage.
But equally as important as our values, are the actions we take during a time of Covid-19 such as wearing masks in confined spaces (unless exempt), keeping two metres socially distanced wherever possible, and washing/sanitising our hands regularly – and our Community Pledge incorporates these behaviours as they make a real difference in reducing the spread of the virus – and making sure that the areas where we live, work and study are as safe as they can be. If you haven't already done so, please do take a couple of minutes to visit the Community Pledge page here.
Preparing for blended learning and getting online
Some students have contacted me to ask what equipment they will require to access the online elements of their education and you can access information about that here. Most students' existing mobile, tablet, laptop or PC will be sufficient for all their learning purposes. Also to ensure that you can access your online learning and connect with friends and family you will need Wi-Fi access, and you can find out how to get online via this page.
Rules of the classroom
When you are in the classroom there will be some simple rules that we will all follow – you can see them on the Your Education page on the Student Hub. These should also be clearly displayed in every classroom. They remind us to wash/sanitise our hands before we enter a room, wear face coverings, maintain social distancing and some other simple actions. The Rules of the classroom are designed to reduce the transmission of Covid-19 in teaching areas – and act as an additional safe guard to the extensive health and safety measures in place to keep campus safe.
Where to get food and drink from the start of the new term
The University's caterers have been working hard to develop some fresh and tasty new menus for you to enjoy at the beginning of term. There's a new Click and Collect App, delivery services and subscriptions for Hello Fresh menu kits. You can download the Sussex food ap by going to your Apple or Android app store, looking up Time2Eat and entering the access code 'sussex' to enjoy all the features. We'll be sharing more details about the food offerings on campus with you soon.
With best wishes
Kelly
Kelly Coate
Pro Vice-Chancellor for Education and Students