Latest staff news
Ceremony marks completion of East Slope student village
Posted on behalf of: University of Sussex
Last updated: Friday, 18 December 2020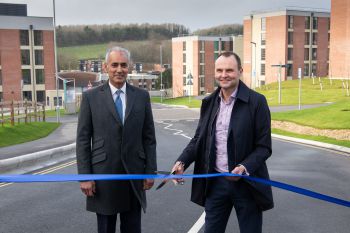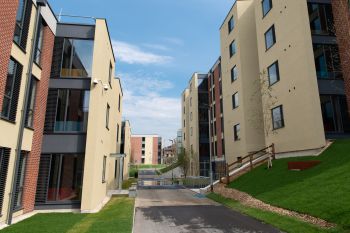 Work began in January 2017 to transform student housing on the East Slope of the University of Sussex campus by building a new student village.
Since then, accommodation blocks have opened in a series of phases; almost four years after construction began, the new residential development is now finished and offers a home to more than 2,100 Sussex students.
Marking completion of the scheme, an official ribbon-cutting ceremony took place on Monday 14 December for contractors Balfour Beatty to formally hand over the student residences to the University.
Speaking directly to some of the staff who have worked on the project, Vice-Chancellor Adam Tickell praised the partnership between the University and Balfour Beatty, saying: "Great job – thank you so much, not just from me but also from all the students who live here now and will live here in the years to come."
The Vice-Chancellor recognised Balfour Beatty's feat in delivering such a large-scale project both on time and on budget, despite many challenges posed by the coronavirus pandemic. He said: "That is some achievement against the backdrop of the pandemic."
Professor Tickell added: "What we have now is the most amazing facility. We're genuinely, really proud. I've been talking to students who live here, and they just love the facilities we've got here."
Ion Appuhamy, Managing Director for Balfour Beatty Investments, described completion of the scheme as the "culmination of a long, hard construction period" and praised the "fantastic performance" of all those involved.
The Vice-Chancellor then cut a ribbon to declare open the new East Slope road, which traverses the development and will open for traffic this week.
As the East Slope development has progressed, it has brought the University's accommodation up to date and in line with the expectations of students. As well as flats and townhouses, the student village includes a 24-hour reception, social hubs and laundry rooms.
The opening of the final phase means that the number of student bedrooms on the East Slope site has tripled from around 600 to a total of 2,117. This outcome has been achieved in time for the intake of more than 300 new international students in January 2021, as well as the return to Sussex of East Slope residents who are away from campus during the winter vacation.