Latest staff news
A Virtual Visit to the Student Centre
Posted on behalf of: Student Centre project team
Last updated: Tuesday, 10 November 2020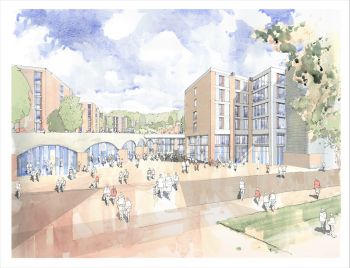 While University life has been continuing in a very different way over the last few months, the Student Centre project has also kept on going. An information video will give you some background on the project to date.
It's such a shame that a lot of people haven't been able to visit campus since the Spring and, as such, haven't been able to see where things have changed. An online event will give you an opportunity to see how the Student Centre is looking at the moment and the vision for the really big positive impact it will make to campus in the future.
The Student Centre project team are really keen to start to get people excited, curious and engaged with this project, so they would love you to join this event to hear and see more!
Sarah Hardman, Assistant Director in Student Experiential Services, says: "With lots of people working away from campus at this time, we want to give everyone a chance to see inside the Student Centre, and start to understand the space and the services.
"We'll be running two online sessions which will provide video footage of the current building progress, as well as showcasing new CGI imagery to give a sense of what the space will look and feel like.
"We'll be joined by speakers from the Students' Union and Connector Programme to talk about some of the exciting plans being developed for when the Student Centre opens."
There will be two chances to join this event by Zoom and the link will be sent to you no later than 24 hours before the event.
A number of speakers from the project team will share some insight into different elements of the project, and the chat function will provide an opportunity for you to give feedback, get more involved or ask questions for the team to respond to after the event.
The Virtual Visit event is running on Thursday 26 November and Tuesday 1 December.