Latest staff news
Are you ready to get back in the saddle this spring?
Posted on behalf of: Transport
Last updated: Thursday, 4 March 2021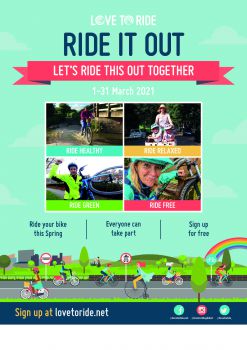 This March, join your colleagues for a fun way to get back into cycling with the arrival of spring. The warmer weather and longer days provide the ideal opportunity to get back on your bike and enjoy all the benefits that go with it.
As part of Ride it Out from Love to Ride, each week there will be a new way to appreciate a bike ride - and we want you to join in.
Ride HEALTHY – Week 1 is a chance for you to get back in the saddle and enjoy the all the health benefits of riding a bike. You'll sleep better, live longer and smile wider! Even just a 10-minute bike ride will get your heart pumping more blood to your brain, which can help to improve problem solving.
Ride RELAXED – Week 2 is about shifting down a gear and enjoying the ride: just cycle at your own pace and take in your surroundings.
Ride GREEN – Week 3 is an opportunity to swap a regular journey for a bike ride. Whether it's grabbing groceries, switching the school run or converting your commute, Love to Ride will share their tips!
Ride FREE – Week 4 is about adventure, because staying home doesn't have to mean being stuck. The adventure can be big or small, such as heading to a new place, riding at night, going off-road, or cycling with a friend.
There will also be some prizes on offer – including t-shirts, holiday vouchers and a brand-new bike – to give you even more reasons to enjoy the outdoors by bike.
When you register with Love to Ride you can set goals, track distance, earn badges, share photos and stories, and encourage others to ride. There's also a range of information on everything from bike maintenance to planning a route.