Latest staff news
View from the VC
By: Harvey Atkinson
Last updated: Friday, 31 July 2020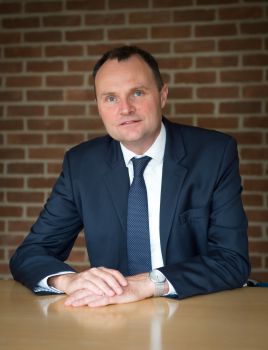 Today (Friday 31 July), the Vice-Chancellor Adam Tickell updated all staff, in his regular View from the VC email. You can read the full View from the VC below.
Following graduation, those much-missed events are coming thick and fast at the moment.
This weekend is Brighton Pride and should have seen thousands of people out on the beaches and streets enjoying one of the city's most colourful and important cultural fixtures. While that clearly can't happen this year, Pride is continuing in spirit online and at smaller scale events. You can view the programme on the Brighton Pride website.
This is a great opportunity to reflect on our own practices and culture and we have just published our new action plan to drive forward our work to promote LGBT equality over the next three years. This will underpin our ambition to become a Stonewall Top 100 employer by 2025.
Over the course of Pride weekend, the quiet(ish) stretch of Hove beach, where I usually take a swim in the sea is transformed by an influx of people imagining, and helping to bring about, a better world, while having great time.
While of course different, it is this atmosphere of spirited celebration that makes our University welcome programme so joyful for our students – and, in no small way, for us too. This year, more than ever, we are making every effort to make sure that our new students experience the same kind of Sussex welcome that generations have before them. There are some things we can't do but there is still so much that students will be able to do, including a virtual, interactive fair and student panels where new students will have the opportunity to ask existing students anything about life at Sussex. The Students' Union, as usual, will have a full programme of fun and social events.
In a year categorised by uncertainty, our overriding focus has been to relieve some of the worry for our current crop of applicants. We have, for example, already guaranteed that every student can expect a minimum of 11 hours of live, interactive teaching per module, each semester. We have also this week published a short film showing how we will be opening all parts of our campus in a Covid-19-safe way – showcasing the culmination of months of work by incredible colleagues across Professional Services and the academy. While produced for students, I encourage you to watch the video to get a sense of just how far we have come since the dark days of March.
Look out next week, too, for a round-up of the progress we have made against our strategic goals in the past 12 months. There is more than you might remember.
In creating our Sussex 2025 strategic framework more than two years ago, it became clear that we needed dedicated and decisive leadership to drive the transformative change we desire in so many areas.
We bolstered that leadership this week with the appointments of Claire Smith and Graeme Pedlingham as Deputy PVCs for, respectively, Education and Innovation, and Student Experience. Claire and Graeme will work closely with me and Kelly Coate to lead the successful delivery of our Learn to Transform strategy and Pedagogic Revolution programme. Our recent results in the National Student Survey show that these are critical appointments at this moment in Sussex's history. With a wealth of experience between them, I am fully confident that we have two outstanding leaders in Claire and Graeme. That we were able to appoint from within our own community should give us all confidence that we already have the skills and capabilities here at Sussex to return the University to a far more competitive footing on the national and global stage.
Alongside this important step forward for our education and teaching ambitions, this week we reach a key milestone in our research agenda and our movement towards 'REF readiness'. Today is the date of the REF2021 census, when we take a snapshot of our research staff profile, ahead of our final submission in March 2021. This means that all staff employed at the University today with "significant responsibility" for research must be included in our final submission. A lot of preparation and detailed work has been carried out to get us to this point and I am genuinely appreciative of all those involved.
How well we do in both the NSS and the REF next year will have significant ramifications for the University for years to come, so it is vital we do everything we can to achieve the best possible results.
Finally, I'd like to congratulate Professor Gurminder Bhambra on her election as a Fellow of the British Academy. This is a hugely prestigious recognition of the quality of her research and scholarship. In May we learned that Professor Adam Eyre-Walker was elected to the Fellowship of the Royal Society, again in recognition for his scientific prowess.