Latest staff news
Email security improvements - how will they affect you?
The University has introduced a new email security system, which is expected to bring an end to widescale spam and phishing emails appearing in Sussex inboxes.
The system has been activated today (1 August) and it will take a couple of days to become fully operational as our changes are recognised by servers around the world. We should then see a significant reduction in spam emails.
Daily digest emails
The University's new intelligent filtering system will intercept malicious emails and send you a single 'digest' email each day with a list of messages that have been held for review. A 'digest' email looks like this: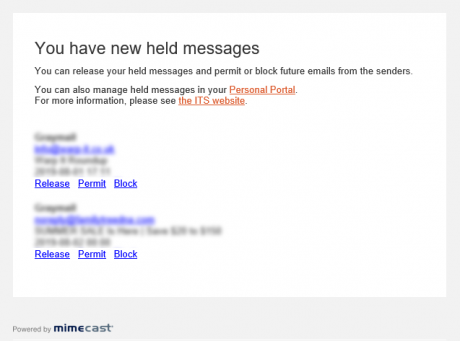 If you think one of these emails is genuine, click on the relevant link in the digest and that message will be released to your inbox.
You will have three options for each held message:
you can Block them, removing the message and adding the sender to your personal block list.
you can Release them, which will send the message to your inbox but continue to intercept messages from the same sender in the future.
you can click Permit, which will deliver the email to your inbox along with any future messages from this sender.
Held messages will be deleted after 14 days if you don't release them.
The Outlook plugin
If you use Outlook on a Sussex PC, you will see a new tab called Mimecast. This tab allows you to:
see your held messages
control the level of protection you receive
report spam
access your personal list of blocked senders.
This plugin isn't currently available for Mac or Linux computers, but you can log in to mimecast.com using your Sussex credentials to access the same information.
Find out more
Please see the ITS website for more information about the email filtering system, how to check messages that have been held, and other ways that your experience will change.
IT Services are reviewing and improving many aspects of our email system. On Monday 15 July, the automatic forwarding of email to non-Sussex addresses was stopped, improving email and data security and enhancing our compliance with GDPR. The next step is to begin intercepting all emails with our new email security system.
Further improvements are planned for the staff email system, making it easier to connect your devices to your Sussex account and improving the webmail system.
---