Latest staff news
Sussex staff display their talents at Artists Open Houses
Sunlight shines on the café of the Attenborough Centre for the Creative Arts (ACCA) in a watercolour painting that will feature as part of a local artists' festival.
University of Sussex staff are among more than 1,500 artists and makers who will be exhibiting their work during the Artists Open Houses festival at 200 homes and studio spaces across the city during the Brighton Festival in May.
Marketing Manager John Haywood will be displaying his watercolours – including one of the ACCA café - as part of the Park Gate Collective in Hove.
John says: "I'll be showing recent paintings based on my travels to Barcelona and France along with a few UK and Brighton paintings too.
"My paintings fall under the watercolour umbrella of 'impressionistic'. I don't seek to mimic a photograph-like realism, preferring instead to try to capture a feeling or mood of a subject, whether that is of a specific place, a quality of light or time of day."
Marian Kilpatrick, Receptionist/Information Assistant in the Communications team, is exhibiting limited-edition linocuts as part of the Kemptown trail.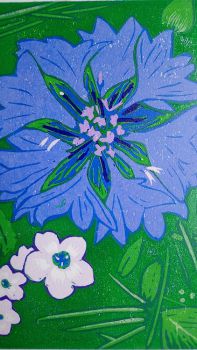 Her 'Cornflower' print is based on a photo she took of the flower meadow by Sussex House when it was in full bloom last summer.
And technician Martha Casey, from Psychology, will be showing her resin jewellery and quilts at Connaught Terrace in Hove.
The Artists Open Houses festival 2018, the largest event of its kind in the UK, will take place in Brighton, Hove and beyond over four weekends in May, starting on Saturday 5 May. Entry to the festival is free.
Are you a Sussex student or staff member who's exhibiting as part of Artists Open Houses in May? We'd love to hear about your art work – do send us details and pictures. And if you're appearing in the Brighton Fringe festival, do drop us a line about that, too. Email internalcomms@sussex.ac.uk
---
---
Excellent work. I am also a keen artist, is there a UOS art group of any kind I could join?
If you'd like to leave a comment, enter your ITS username, password, and your comment. The comment may need approval before it is displayed, so don't expect your comment to appear right away.
By submitting a comment you are agreeing to the Acceptable Use Policy.