Latest staff news
Obituary: Alan Sinfield
Posted on behalf of: School of English
Last updated: Thursday, 7 December 2017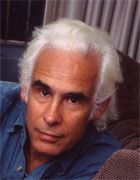 Alan Sinfield, internationally renowned scholar, theorist and editor, and Emeritus Professor of English and Cultural Studies at Sussex, died on 2 December 2017 at the age of 75.
Alan was one of the most brilliant, eloquent, prolific and, above all, innovative scholars of his generation. In the 1980s and 1990s, in a series of influential inter-disciplinary studies, he helped to redefine the scope and purpose of literary and literary-historical studies not only in departments of literature and history in Britain, North America and Europe but throughout the world.
Using the insights of critical, cultural and political theory, he transformed the reading and understanding of early modern literature, 20th-century drama and post-war British literature and established queer studies as a distinctive discipline in the humanities.
His writing on Shakespeare shook up the world of Shakespeare studies and gave it a fright from which it has not yet fully recovered. His encyclopaedic study of 20th-century British and American theatre has proven an inexhaustible resource.
His important contributions to queer studies make class as significant a question as sexuality - and his unsurpassed and masterly account of post-war British literature, culture and politics describes the half-realised promises of the welfare state at the very moment when neo-liberalism was undermining them.
The author of 17 books and a long-time editor of the prestigious journal Textual Practice, Alan was also an exceptional teacher and a skilled administrator, twice becoming head of department.
In 1990, he co-founded the then controversial Sexual Dissidence MA programme at Sussex - one Tory MP demanded that the English department be closed and its offices hosed down - and throughout the 1990s he was a leading voice in the so-called 'theory wars' which invigorated colleagues at Sussex as they did elsewhere.
Instrumental in the development of film and media studies as well as gender and cultural studies at Sussex, Alan was a consistently pioneering figure within the University, endlessly generous in the support and encouragement of colleagues and doctoral students.
Alan's father died in 1944 when he was three, killed in action with the RAF, and his mother's hardship as a war widow did much to inspire his life-long commitment to justice and equality - as it did his sympathy and kindness.
Educated on a boarding scholarship at the Royal School, Wolverhampton, he studied English Literature and completed his doctorate at University College, London. He joined Sussex as a lecturer in 1965.
In 2004, in a final, deeply moving lecture, Alan announced his early retirement because Parkinson's Disease was affecting his speech. He endured the effects of his disease with stoic dignity, lovingly supported by his partner Vincent Quinn, who also took early retirement from the University to care for him. Alan had a unique voice and its rhythms and idioms, silenced by his illness, live on in his lucid, witty and vigorous prose.
All are welcome to Alan's funeral will be held at Woodvale Crematorium Brighton at 1.30pm on Monday 18 December 2017. Instead of flowers, attendees are encouraged to donate to the Lewy Body Society.
Dr Alistair Davies
Former Visiting Fellow and Senior Lecturer, School of English