The great recession (2008-13) highlighted long-term structural imbalances in Europe that accumulated over thirty years, as well as the ineffectiveness of standard policy instruments to put EU economies back on steady growth paths.
It is evident that markets alone cannot ensure the strong economic growth required to approach full employment, even in the presence of extraordinary and unconventional policy support. This poses massive challenges for public policy; markets must be actively shaped and created.
New approaches are thus needed in the design of growth policies and analysis of policy impacts that take into account the complexity of a highly globalised, financialised and interconnected economy.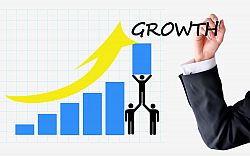 Three SPRU researchers, Professor Mariana Mazzucato, Professor Maria Savona and Dr Tommaso Ciarli, have been awarded €590K funding through the European Commission's Horizon 2020 as part of a €2.5 million three year project, which started on May 1st 2015.
The 'Innovation- fuelled, Sustainable, Inclusive Growth' (ISIGrowth) project studies the non-linear relationships between innovation, employment dynamics, inequality, environmental sustainability, structural change, globalization of production and growth.
The project aims to develop inclusive and sustainable policy scenarios, providing alternatives to the current emphasis on austerity, and challenging the types of 'financialization' that many economies have faced over the last decades.
The project also aims to deliver a coherent policy toolkit to achieve the Europe 2020 objectives of smart, sustainable and inclusive growth. In order to deliver comprehensive diagnostics and a coherent set of policy tools, the team will undertake analysis from several highly complementary angles, and identify a number of key cross-cutting themes covering policy areas such as innovation policy, fiscal policy, industrial policy, education policy, and cohesion policy.
Methodology
The project combines frontier empirical analysis with micro—macro models that take into account the complexity and systemic nature of innovation, inequality, and economic growth.
Working from the premise that the economy and its main underlying domains such as technologies, agents, social relations and institutions should be studied by considering their complex system nature, the researchers use tools from complexity theory, such as agent based modelling.
The project employs
State-of-the-art econometric techniques combining rich micro, industry, market, regional and country level data together with 'theory-informed' historical case studies of key industry actors in particular sectors
Uses a network approach to study the possible dynamics that are crucial to growth (e.g. mitigating financialisation and deindustrialisation, fostering innovation and sustainable development)
Implements empirically-grounded models as laboratories for policy analysis exploring the conditions under which smart and sustainable growth (can be achieved by different combinations of innovation, industry, fiscal and monetary policies.
Impact and outreach
A distinctive feature of the ISIGrowth approach is the development and evaluation of new policy initiatives in close coordination with stakeholders and policy makers. This will be achieved through a Civic Action Network and a Business Forum to enable continuous feedback and consultation with leading representatives of European civil society and industry. In addition, members of ISIGrowth will be in regular contact with national and European policy makers through established linkages and dedicated policy forums and events.
The project will hold a high level conference in Brussels in May 2016.
Related working papers:
From Market Fixing to Market-Creating: A New Framework for Economic Policy, Mariana Mazzucato
The Rise of Mission-Oriented State Investment Banks: The Cases of Germany's KfW and Brazil's BNDES, Mariana Mazzucato, Caetano Penna
Partners and Links

ISIGrowth is a collaboration with six other universities across Europe as well as Columbia University in the States and the United Nations Economic Commission for Latin America and the Caribbean (ECLAC). The project is coordinated by Professor Giovanni Dosi, a world-renowned scholar in evolutionary economics, at Sant'Anna Institute for Advanced Studies at the University of Pisa. The partnership builds on a collaboration begun in a previous EU FP-7 funded project coordinated by Professor Mazzucato, Finance, Innovation and Growth (FINNOV).
The seven international institutions that form ISIGrowth are:
1) Scuola Superiore Sant'Anna, (collaboration with the United Nations Economic Commission for Latin America and the Caribbean)
2) University of Sussex
3) Fondation Nationale des Sciences Politiques
4) Universitaet Bielefeld
5) Univerza v Ljubljani
6) Universitaet Zuerich
7) Columbia University
For more information, please visit the ISIGrowth Project website.