There are two central research paradigms in economics: The first is the Keynes-Minsky vision that puts effective demand at the front of economic analysis, and the second is the Schumpeter-Minsky vision that focuses on innovation and competition.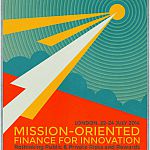 Research by Professor Mariana Mazzucato aims to bring the two visions together to provide rigorous and critical analysis of competition in the financial sphere and how it interacts with competition in the industrial sphere. This will enable us to make policy recommendations to reform finance to promote the capital development of the economy.
The goal of this project is to identify the micro-level obstacles to channeling investment into new growth-promoting technologies and the large scale effects of disruptive innovation, by applying Minsky's insights on financial innovation and the Evolutionary-Schumpeterian insights on "real sector" innovations. Given institutional barriers worsened by the financial crisis, the role of the government must increase. However, exactly how the government can play that role, and how it can encourage private finance, is an open question to be addressed by this study
The Financing Innovation project is a joint research effort by two leading institutions in the field of post-Keynesian monetary economics and neo-Schumpeterian evolutionary economics; the Levy Institute of Bard College and SPRU. It is co-lead by Professor Mariana Mazzucato (SPRU/University of Sussex) and Professor L. Randall Wray (University of Missouri-Kansas City and Levy Institute/Bard College). The project is funded through a grant from the Institute for New Economic Thinking (INET).
Methodology
The theoretical side of the project consists of the development of an integrated perspective, bringing together the ideas of Prof. Mazzucato, an expert in evolutionary and Schumpeterian economics, and of Prof. Wray, an expert in Post-Keynesian economics and the works of Hyman Minsky. The empirical side of the project focuses on specific sectors, mainly biotechnology and the emerging green technology sector, as well as related macro aggregates. Core questions are centred around:
Understanding the relationship between financial markets and the real economy, specifically the degree to which financial markets penalise innovation and value creation rather than reward it
Understanding the relationship between new investment flows and the value and rate of profit of the existing capital stock; investigating its implications for the profitability of new technologies, and their investment-attractiveness to firms and financial institutions
Understanding the relationship between publicly funded early-stage research and development (R&D) and privately funded commercialisation of innovative enterprise and its intellectual property rights
Understanding the 'external economies' (of networking and clustering) which promote the growth of innovative companies and innovation-sponsoring investment groups, and connect the two
Evaluating the possibilities for world-wide economic recovery around a new green growth trajectory, and new financial institutions and instruments geared to it
Impact and Outreach
Book

Co-edited by Mariana Mazzucato and Caetano Penna, Mission-Oriented Finance for Innovation: New ideas for investment-led growth, features contributions from Vince Cable, Andy Haldane, Adair Turner, and other leaders of mission-oriented public agencies and economists from around the world. The book has been published in collaboration with Policy Network and was launched in March 2015.
Working papers
Mazzucato, M. (2015). Levy Institute Working Paper No. 824 | January.
Building the Entrepreneurial State: A new framework for envisioning and evaluating a mission-oriented public sector
Mazzucato, M.; and Penna, C.R. (2014). SPRU Working Paper Series (SWPS 2014-21).
Beyond market failures: The market creating and shaping roles of state investment banks
Institute for New Economic Thinking's (INET) "Human After All" conference in Toronto, April 8-9, 2014
Professor Mariana Mazzucato delivered a mini-course on the Economics of Innovation during the 2014 INET conference. For futher details see: Economics of Innovation Workshop
There are also a selection of video interviews with speakers at "Human After All".
At the same conference, Prof. Mazzucato also gave a plenary keynote speech on 'Private Public Returns from Innovation' as part of a keynote panel on "Innovation: Do Private Returns Produce the Social Returns We Need"
Mission-Oriented Finance For Innovation - Rethinking Public & Private Risks And Rewards (London 22 – 24 July 2014)
This conference, organised by Prof. Mazzucato and hosted by the Rt Hon Vince Cable in the UK parliament, with keynotes from economic 'stars' like Andy Haldane and Lord Adair Turner, aimed to change the conversation about the role of the state in financing the innovation needed for sustainable, inclusive growth. It brought together leading academics with policy-makers, business and banking leaders and practitioners. In the opening address, UK Business Secretary Vince Cable paid tribute to Prof. Mazzucato's "thinking in this area… which we want to learn from" and called for Government spending on innovation to double.
Partners and Links

The project builds on the success of a previous grant held by Professor Mariana Mazzucato, FINNOV - "Finance, Innovation and Growth: Changing Patterns and Policy Implications." The results of which were summarised in a special issue of the prestigious journal Industrial and Corporate Change, edited by Prof. Mazzucato , and by the European Commission.