What does it take to transform a city? How can you play your part in co-creating a sustainable future?
In many places around Europe what was once unimaginable has become a reality: car-free neighbourhoods and bike sharing systems, urban farms and vegan cafés, community-owned wind farms and passive houses. However, with Europe battling triple economic, environmental and social crises, urban farms and bike sharing systems are not going to save us. Or are they? New initiatives, ideas and products change the way we relate to each other and our environment, as well as the way we define and fulfil our needs. They open up spaces for experimenting and learning, acting as laboratories for sustainability transitions.
In Brighton and Hove there are at least 100 local initiatives that are driven by people that live or work in the city region, which aim to change services, approaches, routines, practices and/or infrastructure, within the city towards sustainability. The Big Lemon Bus, HisBe, and Hanover Centre Carbon Reduction Awareness and Community Engagement (RACE) Project are just a few, not to mention a plethora of cycling, recycling, gardening, food co-ops, allotment and wildlife preservation initiatives.
Summary
This EU-funded ARTS project (2013-2016) which involves Professor Gordon MacKerron, Dr Florian Kern, Dr Rachael Durrant and Jake Barnes from SPRU, is designed to understand the role and impact of such local initiatives in European city-regions and to examine the conditions that can aid accelerating change towards sustainable low-carbon societies. These initiatives open up spaces for experimenting and learning, acting as laboratories for wider sustainability transitions. But what kind of agency do these initiatives have and what strategies can they pursue to accelerate progress to more sustainable forms of living? The ARTS project began from the premise that realising the potential benefits of long-term transformative change towards sustainability requires an understanding of local transition initiatives and the multi-level governance context in which they act.
The overall research objective of ARTS is to advance our understanding of the conditions and mechanisms for accelerating transitions to sustainable low-carbon societies in city-regions. The project aims to improve decision-making in policy and practice at regional and EU level.
Research design and progress
ARTS is an integrated, inter disciplinary and transdisciplinary project with a clear methodology of examining how diverse initiatives can be coupled together and rescaled in order to speed-up their delivery and impact. The analysis focuses on five case study city-regions across Europe: Brighton in the UK, Budapest in Hungary, Dresden in Germany, Flanders in Belgium and Stockholm in Sweden.
Since December 2013 ARTS researchers have systematically mapped local sustainability initiatives; they have reviewed and analysed the multi-level governance context (from Brighton and Hove City Council through the Local Economic Partnership to European Union directives); they have selected 11 initiatives to study in depth and explored these initiatives' strategies for emergence, growth and impact. A snapshot of identified Brighton initiatives can be viewed here. A briefing note by Rachael Durrant focusing on one embedded case study the Brighton and Hove Food Partnership explores how to accelerate progress to sustainability in an inclusive manner can be accessed here.
In the latter stage of the project ARTS researchers are focusing on analyzing the innovative activities and related actor-networks that are fundamentally changing energy, food, shelter and mobility provisioning patterns at the scale of a city-region.
The next phase of the project involves bringing together interested actors and co-developing strategies for accelerating transitions in Brighton and Hove, as well as to enable learning between and across local initiatives and the project.
Impact and Outreach
In the autumn of 2015 the ARTS team joined up with a local arts and Ecology organization Onca to run a series of events and activities under the title FutureRoots. The collaboration collected voicemails from the cloud of possible futures by local initiatives about the effect they had had on the city-region. Two workshops then explored new forms of evaluation and 'collaborative futures'. Further details on the collaboration and access to the voicemails can be found on Onca's website. Below is a FutureRoots timeline featuring snippets of recorded voicemails.
Since 2014, the ARTS project has run a blog - see feed below. The blog aims to give you a direct insight into what is happening at the local level through the eyes of citizen bloggers. In their reports you will find stories on how transition is playing out in five very different cities across Europe, as told by the people who are making them happen.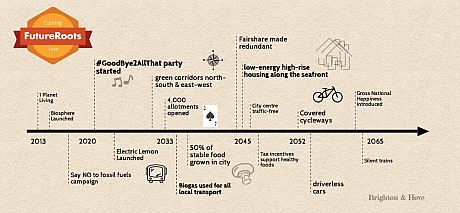 In 2016 a series of three workshops explored how to accelerate progress towards sustainability under shifting national and local contexts of action. The series, titled 'Sustainability through Collaboration' brought together 80 local stakeholders and was informed by Brighton and Hove City Council's stated ambition of moving towards a more collaborative way of working. The outcome of the series was a set of actions placed on a timeline as a roadmap for a more sustainable future in Brighton and Hove.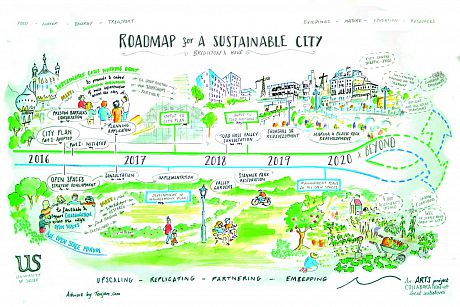 Roadmap for a Sustainable City, Brighton and Hove
The roadmap document has been created for the benefit of people involved in local initiatives in Brighton and Hove who are striving to create a more sustainable and low carbon future, as well as those organisations and people seeking to support and govern change within the city. Its purpose is to inform them about the context in which they are working and to help develop their future strategies. Most importantly though the creation of the roadmap was itself an important process in which many local actors participated, learned from each other and developed shared, desirable visions of the future.
Using two themes – Open Spaces and New Infrastructure Projects – the move towards a collaborative Council is interrogated in terms of its challenges and opportunities for a more sustainable future and a list of collective actions tackling important issues within these two themes are assembled.
See also: Final event overview.
Partners and Links
SPRU: Professor Gordon MacKerron, Dr Florian Kern, Dr Rachael Durrant and Jake Barnes
The ARTS consortium consists of 10 partners, from 9 different European countries, of which SPRU is one. The other partners are: Dutch Research Institute for Transitions (DRIFT) (project lead), Leibniz Institute of Ecological Urban and Regional Development, Flemish Institute for Technological Research NV, Industrial Engineering Department, Boğaziçi University (BOUN), Stockholm Resilience Centre, Austrian Institute of Technology, Local Governments for Sustainability, Rotterdam School of Management (RSM), Szent István University, GAK Nonprofit Közhasznú Kft (SZIE GAK)
See also
For further information on the project, our partners, presentations and outputs please visit the ARTS project website