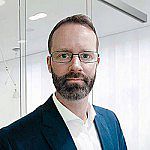 Dr
Nicholas Dacre
Post:
Associate Faculty (SPRU - Science Policy Research Unit)
Location:
JUBILEE BUILDING JUB-346
Email:
Nicholas.Dacre@sussex.ac.uk
Personal homepage:
dacre.xyz

Telephone numbers
Internal:
3794
UK:
01273 873794
International:
+44 1273 873794

Research expertise:

Agile Project Management

,

Collective Intelligence

,

Crowdsourcing

,

Digital innovation

,

Digital Projects

,

Digital transformation

,

Enterprise Gamification

,

Enterprise Systems

,

Gamification

,

Information Systems

,

Outsourcing

,

Project Management

,

qualitative research methods

,

Serious games

,

Technology and Innovation Management

download vCarddownload vCard to your mobile
Biography
Dr Nicholas Dacre PhD, is a Senior Academic (SFHEA) in Project and Innovation Management, Strategic Innovation Management Director, and Innovation & Project Management Research Subject Mobiliser with the Science Policy Research Unit (SPRU) at the University of Sussex Business School.
Dr Dacre completed his PhD at the University of Warwick Business School with his research focusing on areas of Enterprise Gamification, Digital Projects, and Innovation Management. Nicholas currently undertakes his research at the University of Sussex within SPRU's Technology and Innovation Management cluster, whilst collaborating with colleagues from both industry and academic institutions including the University of Warwick, University of Liverpool, Aston University, Henley, and the University of Sydney. Nicholas has published research, and presented at international conferences, including book contribution on Gamification. Dr Dacre has shared his research as an invited guest speaker, is an external examiner, and has lectured at various UK and international institutions including the University of Warwick, City University of Hong Kong, and Keele University.
Research Subject Mobiliser
Director Strategic Innovation Management
Senior Fellow Higher Education Academy
Dr Nicholas Dacre
is a Senior Fellow of the Higher Education Academy (
SFHEA
) and has taught undergraduate, masters and executive education programmes, and previously held the post of course director.
Dr Nicholas Dacre
engages his students by delivering dynamic lectures through game based learning, managing flipped classroom approaches, and by focusing on technology enabled active learning with digital pedagogy.
PRINCE2 Certified Practitioner
Nicholas Dacre
is a
PRINCE2
Certified Practitioner with experience of managing substantial and agile projects. Prior to academia, Dr Dacre worked as a consultant focused on Digital Transformation Projects working with a range of Fortune 500 companies, startups, and non-profit organisations.
Role
- Director of Strategic Innovation Management
- SPRU Innovation & Project Management Research Subject Mobiliser
- Senior Academic Teaching & Learning (SFHEA)
- Assistant Professor Project and Innovation Management
- Academic Programme Project Management
- Gamification, Project, and Innovation Consultant
- Guest Speaker
Community and Business
Dr. Nicholas Dacre advises businesses on innovation management and technology solutions, managing digital transformation processes, and the application of Enterprise Gamification with large and small startups. Nicholas also works with social enterprises, community based organisations and non-profits. Dr. Dacre has also shared his research in industry as an invited speaker.
Research in Progress
"Gamification of constructive deviance in business: Are you a gamified innovator, maverick, slacker, or fraudster?", Dr Nicholas Dacre with Professor Joe Nandhakumar, and Professor Ian McCarthy
"Iterative Co-Creation in Mental Health Mobile App Development", Dr Nicholas Dacre with Dr Ahmad Beltagui, Dr Fiona Maciver, and Jamie Prangnell.
"Innovating Creativity in Digital Project Management", Dr Nicholas Dacre with Dr Leonard Raphael, Dr Gary Bell, and David Pontin.
PhD Students
Prospective PhD students please email nicholas.dacre@sussex.ac.uk with an outline of your research proposal.
Particularly interested in supervising PhD students focused on developing research on Enterprise Gamification, or broader aspects of Gamification using qualitative or mixed methods approach. Also open to considering PhD proposals on areas of Digital Innovation, Digital Projects, Digital Transformation, related aspects of Projects, Innovation Management and Technology.
Web Links