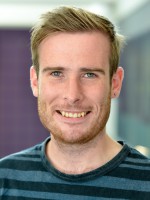 Dr
Philip Johnstone
Biography
I am a Research Fellow with a background in Human Geography and Science and Technology Studies interested in energy policy, the political and democratic implications of technological development, understanding the role and nature of the state in the 21st century, and developing more spatial understandings of Science & Technology policy.
I am currently working on the 'Smart Energy Transition' (SET Plan), funded by the Strategic Funding Plan of the Royal Academy of Finland. This project looks at 'disruptive technologies' in the energy sector, understanding the differences between national contexts in terms of how 'disruptive technologies' are governed within sustainable transformations of energy systems. The team at Sussex are looking at the role of industrial policy and institutions in the development of wind, solar and demand side measures in the contexts of Denmark, Germany, and the UK in order to produce reccommendations to feed in to the Finnish energy transition.
Previously, I worked on a three-year project on the Governance of Discontinuity in Technological Systems (DiscGo). looking at the under-examined 'flip side' to innovation – how technology governance can address the crucial task of disengaging from well-established socio-technical systems. The project was in collaboration with colleagues at the INRA in Paris, TSG in Dortmund and Twente.
As part of this project, the governance of nuclear energy was a key focus. This has produced research that develops understandings of the drivers behind the notable divergencies in nuclear policy in Europe between Germany's phase out plans, and the UK's policy enthusiasm for the construction of new nuclear. Developing understandings of the challenges related to the UK's nuclear policy in terms of skills and industrial policy has also been key, where I have also participated in research looking at the UK's commitment to the independent construction of nuclear powered submarines. I am co-convenor of the ESRC seminar series that looks at issues of nuclear waste, entitled 'nuclear futures', and I have engaged with UK nuclear policy including appearing before the Welsh Affairs Select Committee for their nuclear inquiry, and contributing to government consultations on nuclear waste policy.
Before arriving at SPRU I completed a PhD on Public Engagement with Nuclear Power in the UK. Whilst writing up I worked as a Post-Doctoral Researcher on the ESRC Biosecurity Borderlands project, and then the ESRC Visualising Climate Change project also at Exeter.
Role
Research Fellow
Tyndall Centre Sussex Coordinator