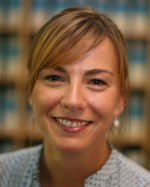 Dr
Caitriona McLeish
Biography
Caitríona McLeish is a Senior Fellow at SPRU at the University of Sussex and became co-director of the Harvard Sussex Program on Chemical and Biological Weapons in 2010.
McLeish's research interests are centred on the dual use problem in both the chemical and biological warfare environments and how to design effective mechanisms to prevent the misuse of legitimate science and technology. Widely published in the area, her recent work includes analysis of past offensive and defensive chemical and biological warfare programmes; assessments of the impact that contemporary dual use CBW policies are having on the innovative capacity of scientific and industrial communities; and examination of the roles of industry and global civil society in chemical and biological disarmament, including what potential roles industry and global civil society may have in preventing (re)emergence of these weapons.
In 2013 she began a research project to collect data on allegations of chemical weapons use in Syria and latterly Iraq. Initially funded as an 18 month project by the ESRC, this work is continues. She also leads the Deep Transitions sub project which examines the role of war in food, energy and transport systems.
As well as supervising postgraduate dissertation writing in the area of chemical and biological warfare issues, McLeish leads on HSPs external outreach and training programmes. She convenes two of HSP's seminar series, The HSP London Seminar and Sussex Days, which seek to promote communication between government and non-government specialists in CBW issues. She also acts as editor of the Harvard Sussex Program Occasional Paper Series and has primary reponsibility for the Sussex Harvard Information Bank (SHIB), a systematic information bank built up from published and unpublished documentation on CBW accumulated since the early 1960s.
Role
Senior Research Fellow, SPRU
Community and Business
McLeish's work bring her into close working relations with a variety of users and producers of science and technology as well as those trying to design international and national policies to prevent the use of chemical and biological warfare, including academic scientists and other scientific organisations, non governmental organisations, industry representatives, and representatives from national governments and international organisations.