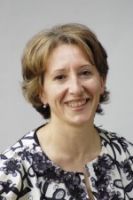 Dr
Piera Morlacchi
Biography
Initially I have studied engineering science at Politecnico di Milano (Italy) where I completed Bachelor and Master degrees in management and industrial engineering, with a specialization in complex systems modelling and artificial intelligence (dissertation title "Design of neural networks for modelling and managing of production systems"). After working as a research assistant during my master studies at graduation I was hired in Milano as a research fellow and lecturer, where I stayed for three years.
In 1998 I moved to the UK to do my PhD in the School of Management, University of Bath (UK) completing a thesis on innovation in the medical device field (title "How new technologies become legitimated: the co-evolution of technologies and networks in the cardiac implantable device field") and graduating in 2003.
I have joined the University of Sussex in May 2003. Here, I am affiliated to both SPRU (Science and Technology Policy Research) and BAM (Business & Management) department within the BMEc School where I am involved in research, administration and teaching at undergraduate and postgraduate levels in the area of entrepreneurship, organization, research methodology and policy.
In addition to my full time position at Sussex, I have held a number of visiting positions at other institutions. In 2006, I was a Summer Fellow at Centre for Advanced Study in the Behavioral Sciences (CASBS), Stanford University, California and a visiting scholar at the Santa Fe Institute, New Mexico. Between 2007 and 2008, I was a Senior Research Fellowin the International Center for Health Outcomes and Innovation Research (InCHOIR) and Adjunct Associate Research Scientist in the Department of Surgery, Columbia University, New York. In 2011, during the summer, I was a Visiting Professor at the University of Southern Denmark. Currently, I hold a Visiting Professor position at the University of Trento, Italy.

Role
Senior Lecturer / Associate Professor, with joint affiliation to the Department of Business and Management (BAM) and Science and Technology Policy Research (SPRU), School of 'Business, Management and Economics (BMEc)'.
Community and Business