Panel discussion and networking event on 'Transformative technologies in energy, buildings and transport'.
7 February 2019
12:30 - 15:00
Central Hall Westminster
London
Register on Event Brite: https://segtransformativetechnologies.eventbrite.co.uk
This event brings together high-level professionals in industry, government, academia and civil society to discuss the key innovations in energy, buildings and transport that will shape the future of energy demand in the UK. It will showcase a range of perspectives from policy makers and industry with the latest thinking in energy studies to bring you a stimulating discussion on the future of low energy innovation.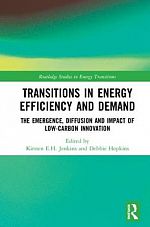 The event will allow time for questions from the audience and the opportunity to network with key stakeholders in the energy sector.
It is hosted by the Sussex Energy Group and will take place on the occasion of a new, edited book titled 'Transitions in Energy Efficiency and Demand'. This book brings together research from a five-year RCUK-funded research centre, the Centre on Innovation and Energy Demand (CIED), based at the University of Sussex and investigating the role of low energy innovations in reducing energy demand.
Agenda:
12.30 - 13.00 Arrivals and lunch
13.00 - 13.10 Chair's welcome (Benjamin Sovacool)
13.10 - 13.55 Panel 1 (Alex Gilbert, Paul Appleby, Debbie Hopkins)
13.55 - 14.40 Panel 2 (Joanne Wade, Jeremy Vincent, Jim Watson, Kirsten Jenkins)
14.40 - 14.45 Chair's final remarks
14.45 - 15.00 Final questions from audience and end of event (tea and coffee)
Speakers:
Joanne Wade – Association for Decentralised Energy (ADE)
Jeremy Vincent – Department of Business, Energy and Industrial Strategy (BEIS)
Paul Appleby – British Petroleum (BP)
Jim Watson – UK Energy Research Centre (UKERC)
Alex Gilbert – Transport for London (TfL)
Kirsten Jenkins – University of Brighton (Associate Researcher at the Centre on Innovation and Energy Demand)
Debbie Hopkins – University of Oxford (Associate Researcher at the Centre on Innovation and Energy Demand)
Benjamin Sovacool – Director, Sussex Energy Group, University of Sussex