It was a great privilege to welcome Professor Jennifer Rubin, Executive Chair of the Economic and Social Research Council (ESRC), to the University of Sussex earlier this week as the guest speaker of this year's Marie Jahoda Annual Lecture 2020.
Professor Rubin's presentation 'Living with technology: scientific knowledge and the good life', drew on Marie Jahoda's Marienthal study on the economics of unemployment to discuss the role of social sciences in technology and innovation.
Opening the Lecture, Professor Adam Tickell, Vice Chancellor of the University of Sussex, shared the meaning of Marie Jahoda's legacy today, her rich and eventful life from her emigration from Austria to her contribution in the shaping of the interdisciplinary, innovative, forward thinking principles of the Science Policy Research Unit (SPRU). Professor Tickell referred to the need for more interdisciplinary research and noted SPRU's long running contribution to this endeavour.
SPRU's Director, Professor Jeremy Kent Hall, before introducing the prominent guest, gave an overview of Marie's last presentation, which he attended in person, which was given about 25 years ago as part of a welcoming event for new members of the SPRU community. Drawing again on her classic Marienthal: The Sociography of an Unemployed Community (German: 1933; English: 1971), she discussed the problems in the Balkans after the breakup of Yugoslavia and the basic thesis, "that prolonged unemployment leads to a state of apathy in which the victims do not utilize any longer even the few opportunities left to them". From her personal experience of fascism in Austria, this vicious cycle, between reduced opportunities and aspirations, allowed for the manipulation of people by dubious political elements. In that presentation, Marie discussed how elements within the former Yugoslav Republics manipulated various factions to brutally turn on each other. As Jeremy concluded, the presentation 'was brilliant, and equally relevant today as it was then, perhaps even more so with the technologies that may have affected recent elections and referendums'.
In her speech, Professor Rubin, a champion of all that Marie Jahoda stood for, as well as personally inspired by the legendary academic, underlined how the axioms of Marie's work are more relevant today than ever, especially the findings of the Marienthal study. Then she emphasised that the experience of regular work was a fundamental human need for most people, not only for economic reasons but also for a personal sense of identity, for social contacts, and for the structuring of time.
As Jennifer noted, there is still little investment (within the research scope) allocated to understand how people think and behave in relation to pressing issues such as the development of technologies that may have broad societal impacts in the near future (e.g. artificial intelligence). Jennifer argued that incorporating social science into the study of technology and innovation can broaden up our understanding about how social relations shape technology and vice versa.
Jennifer continued that more attention needs to be put into questions such as 'what societal need is a technology meeting?' 'whose needs are identified and prioritised and why?' 'what are the actual or likely impacts of such technologies in society?' and 'how should technology be governed, regulated and shaped? These questions are of particular salience, since the framing of questions often shape the type of answers we arrive at. In this regard, what are we seeking to understand when society and technological developments are at stake?
The role of social sciences in broadening its scope of analysis to include the study of technology, from the purpose of a technology to the social power relations involved in it, was further discussed during a very stimulating Q&A session.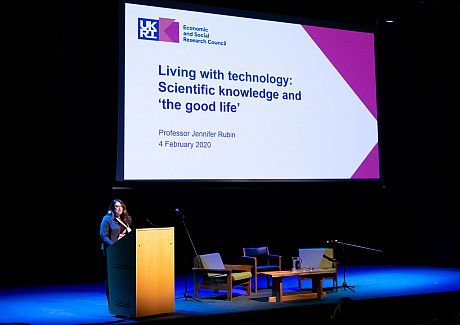 Review by Melina Galdos Frisancho, Aristea Markantoni and Arthur Moreira