Obituary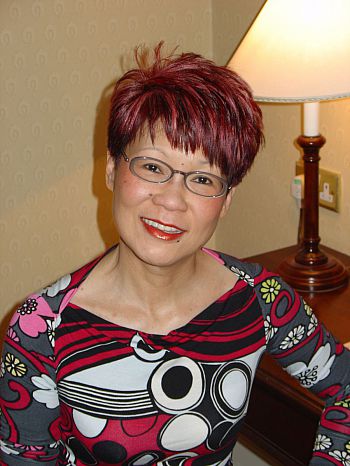 Dr Puay Tang, Senior Lecturer and Director of Teaching at SPRU who died of cancer on 2 December 2018, is sadly missed by colleagues.
Puay arrived at SPRU in 1994, having obtained a PhD in international relations from Johns Hopkins University. She worked initially in the SPRU group on information and communication policy. Her focus was on intellectual property rights (IPR), including copyright issues in electronic publishing, software patents, the management of IPR in collaborative projects, and the role of IPR in innovation. Subsequently, her emphasis switched more to university-industry relations, including the strategies deployed by universities to exploit their intellectual assets, evolving IP management practices, and the role of Technology Transfer Offices.
For several years, she was a valued member of the Complex Product Systems (CoPS) group, publishing important papers on such issues as integrated solutions, cyber-crime, smart homes and telecare.
In addition, faced with the unremitting pressure to bring in the funds needed to cover her salary as a contract researcher and hence ensure her continued employment in SPRU, she carried out numerous commissioned studies on the evaluation of research programs and centres, research impact, and the contributions of publicly funded research to society. However fierce the constraints on time and whatever the setbacks, she invariably brought these studies to a timely and successful conclusion, leaving the funding agency feeling pleased that she had done an excellent job.
In recent years Puay taught a Master's module on 'Managing IP' for the Business School, which students greatly enjoyed. The most recent student cohort even threw her a party. Puay supervised numerous masters and doctoral students with admirable diligence. While a demanding supervisor, her students nevertheless remember her with great fondness.
In 2013, Puay became the SPRU Director of Teaching, responsible for overseeing five MSc programs. She carried out this demanding task with characteristic enthusiasm, growing the student cohort from 70 to 190 over the next four years. She was also a highly valued member of the SPRU management team.
But most of all, we remember Puay the person, with her constant cheerfulness, boundless energy, feisty determination, sharp wit and ready quip. As she wrestled with the responsibilities and frustrations of being Director of Teaching, she developed her own quirky shorthand that she used in the office, relaying stories of goings on in "Spooky Central" or describing overly technical work as being written in "racoon language". Colleagues might attract an affectionate moniker (for example, "Andy Pandy"), while the SPRU Director came to be lauded as "Our Fearless Leader".
We also remember Puay for her elegant style – academics are not always the best dressed but Puay was ever the exception. And, most conspicuously of all, there was that brightly coloured hair, one week crimson, another purple!
For all these reasons, Puay will be deeply missed by colleagues in SPRU, the Business School and across the university as well as numerous others around the world. Our thoughts are with her partner of the last 30 years, Jordi Molas.
Memorial service
The memorial for Puay Tang will take place on the 12th February at 12:30pm at the Meeting House, University of Sussex. We welcome everyone who wishes to remember, honour and celebrate Puay's life. The memorial service will finish around 2pm and there will be an opportunity to gather after the service, in the Quiet Room of the Meeting House, with refreshments until 4pm. There is no dress code, however bright clothing would be welcome.


See also - Some words about Puay by Ingenio and further testimonials at the Entressh website.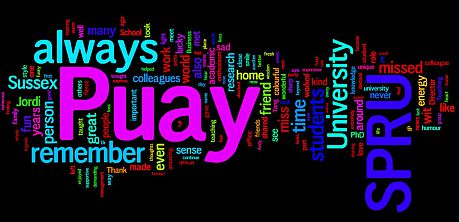 Remembering Puay: Comments
[last updated: Friday 4 January 2019, 12:12]
Richard Hawkins, University of Calgary:
Puay as I remember her.
As I recall, it was on my first day in the old Mantell Building as a new graduate student that I was accosted in the foyer by this tiny, sassy, brassy lady. Hi, who are you? – she demanded. I followed orders, introduced myself and said that I was from Canada. To which she replied – Me too, I'm from Traaawwna (that's how Toronto folk say it). Which was followed by the infectious laugh that everybody who knew Puay came to know and could never associate with anyone else. And in a moment we were friends. And we stayed so. A few moments later, we were joined by a rather large Spanish fellow. Sorry, Catalan fellow – this was also the moment when I learned to get that straight. And then Jordi and I became friends, as we remain today.
Over the ensuing years, not only did the friendship between us deepen, but we became colleagues, working together on many projects that somehow never seemed like work. Careers developed, distances grew and over the past few years, we were able to get together in the same place with decreasing frequency. But whenever that happened, somehow it was always like that first day.
I tend to appreciate people most for their eccentricities. And as all Puay's friends know, she had quite a few of them. A visit to chez Tang typically always began with the most welcoming smile and cheerful "Hi" – followed immediately with the command – "take off your shoes!". Puay's home was very much her castle and she wanted everybody to know it. But she also wanted you to know that you were always absolutely welcome there – that it was your castle too, so take care of it already. Her delight inexpensive shoes were legendary, as was her utter contempt for peas and Brussels sprouts. She professed to be an incompetent cook, and ate mostly noodles, while routinely producing exotic feasts for her guests that routinely surpassed anything from the best chefs in town. And then there was "the finger". Anything not up to snuff was met with a flick of that wicked index finger. With it, she terrorized lazy shopkeepers and indifferent waiters the length and breadth of southern England and around the world. And occasionally friends, for example when you forgot the thing about the shoes.
Yes, Puay was a tiny person with a huge personality. But she was also a person who was not prone to trumpeting her achievements, or, in her professional life, to score points or to try to impress. Because of this, I fear that her keen intelligence, insight and intellectual achievements were not always appreciated to the extent they should have been. Puay was a serious thoroughgoing professional who produced work of high quality that was impactful in many circles. She was also a dedicated educator who cared deeply about students – not just their academic achievement, but, as I am sure all of them will attest, their general wellbeing. But these achievements were just "her" – not something that she ever put in a showcase for all to admire. In today's ranking obsessed academic culture, that is something to remember and truly to admire.
Puay was also annoyingly adept at just cutting through the crap. Whenever she encountered obscurity or cant, or when the discussion got so over-intellectualized that is was descending into outright BS, out would come to that finger. On that score, she steered me right for sure – and many times. That too, we all will miss.
But mostly, I will miss a kind, generous and faithful friend. A good person, with a sense of humor in all things; always incubating a hearty laugh, a clever jibe or just a damn good time. That we were fortunate enough to have had Puay in our lives, if for all too brief a time, enriched us all. And her passing makes us all poorer.
But we all have lives to live, loves to love, laughs to laugh and stuff to do. That is what Puay would want us to be looking towards. So let's get on with it with renewed vigor. It would be the best memorial I can think of.
Sue Emmerson:
I shall certainly miss Puay who was such a generous and as mentioned, colourful lady and who I had known in her personal life for the past 12 years or more. A great character and she will be so missed. Gone much too young!
Shahad Alnasser:
Dr Puay Tang was a wonderful instructor who had left a memorable impact on my life. I will never forget her classes and how her personality shone. She was not only an amazing instructor but also had a pure heart. She listened to her students and was attentive to their concerns. There wasn't a single class where I left confused in. She was concise and easy to understand. I loved her classes to the point that my Master's thesis was based on her curriculum. I was very passionate about the subjects she taught, but that was all due to her way of making them interesting. There aren't enough words that can describe or summarize how I feel about Dr. Puay.
May she rest in peace.
Jakob Edler (President), Stephanie Daimer, Deborah Cox (Secretariate), Gaston Heimeriks, Philippe Laredo, Catalina Martinez, Matthias Weber, EU-SPRI Association.
A breath of fresh air, creative ideas abound, constantly looking for new ways of doing things, committed to our collective cause, with an irresistible humour, wit and charm. In the Executive Committee of EU SPRI Puay was a force of nature from day one. A wonderful person. We will miss her immensely.
Tommaso Ciarli, SPRU, University of Sussex:
It is with astonishment and a deep sadness that I got to know a few minutes after landing from a long flight about Puay leaving us so suddenly.
Simply put, a bad shock.
Fortunately, my memory remembers her smiling, pulling my hairs, and joking about the several characters I impersonated. I'll keep that smile.
PIppa Groome, SPRU, University of Sussex:
It was in 2015 that my short green hair first met Puay's purple and pink hair –now this was someone who had my full attention.
Puay empowered me to follow my curiosity, and take concrete steps into the exciting new world that was SPRU. I cannot fathom how she found the time to meticulously comb through my work, nurturing it as if it was her own. She respectfully and humorously allowed me to save face as I stumbled through the process. Puay opened doors (kicked open?) for me that I wasn't able to open on my own – doors I hadn't even known existed. I honour her beautiful spirit and show gratitude to those who enabled her to channel such energy to students such as myself.
Pavel Corilloclla, SPRU, University of Sussex:
The first time I met Puay – October 2016 – I realise that my PhD journey was going to be hard, but she made it easier by being always supportive. Every time I received feedback from her, I had to take a couple of days in order to come back to that piece of work just to realised that her comments made it much, much better. I also remember Puay punching me tenderly on the arm and saying 'well done Pavel, well done!!!' after achieving a milestone in my research. Her energy and eagerness to make people better are what I will remember forever.
Joanna Chataway, UCL:
It is still hard to acknowledge that Puay has gone. She brought so much to SPRU and to the wider STI community. She was a very talented researcher and a great teacher. And her presence made a difference. When I joined SPRU she was kind, she reassured, made me laugh and made quite a stressful time a lot more enjoyable.
I will miss her very much.
André Campos, University of Campinas:
We all learned a lot from her. In particular how to be colorful, smart, generous and sharp without being hurtful. She was a source of encouragement for many younger academics.
Leonard Raphael, SPRU, University of Sussex:
Dr Puay Tang is a kind and wonderful personality who takes her duties and responsibilities at SPRU very seriously. It is very shocking for me to see her go so soon. May her soul rest in peace... We will miss her.
My deepest condolence to her family and loved ones, and may the Forces grant them the fortitude to bear this irreparable loss.
Danielle King:
Such sad news, Puay was a wit and a wonder to work with, she brought so much energy to everything. She will be missed.
Dajana D'Andrea:
A charismatic, passionate, colourful and unique person. I feel honored I had the chance to know her.
Diego Chavarro, Dagmara Weckowska and Chux Daniels, SPRU, University of Sussex
We would like to say a few words about the great impact that Puay has had on our lives – first in her role as a supervisor of our doctoral research, then as colleague, mentor and friend.
Having come to SPRU as new PhD students, we were faced with the challenge of finding our place in a new environment. A great part of finding that place is finding people willing to offer a hand and guide you through the new experience. We were very fortunate to be supervised by Puay who welcomed us with her enthusiasm and took us under her wings. Hermann Hesse said once that "One never reaches home, but wherever friendly paths intersect the whole world looks like home for a time". For the three of us, Puay Tang was that friend who made the whole world look like home. She gave us all her love and wisdom, and she made of us not only better scholars, but also better human beings.
She cared beyond the call of duty for all her students and worked tirelessly to help us become scholars. And although she knew our weaknesses, she could see in us the talent that we could not see in ourselves. Finding someone who trusts you, even in your most difficult moments when you think you cannot continue, is invaluable for your life. Thank you for that, Puay. We assure you that we will do the same for others because this is a beautiful way to express love, and the world needs the kind of love you taught us.
That Puay saw wonderful things in us does not mean she was soft. If we did well in our viva, it was because of the rigour that we had to learn from her. "You should always strive for clarity", she used to say. And this phrase, as simple as it sounds, is the most difficult part of becoming a good communicator. Learning it took us all our PhD journeys, and we are still far from reaching that kind of clarity both when writing and speaking. We remember once that Jordi was giving a talk, and after he finished she said to us: "he missed the whole point!" So, if even Jordi could not pass Puay's standard of rigour, you can imagine us trying to make her approve our draft chapters. Thank you for this too, Puay: because of you we understand the value of knowledge construction and communication and when we write we do it with respect for the readers and science.
Puay was, like us, technically speaking a foreigner. However, she made SPRU and Brighton her home, and we know she lived happily here. We enjoyed her hospitality when she cooked for us in her house at the seafront. We won't forget her exquisite dishes and her amazing sense of humour, which we shared with her and Jordi. Sharing is perhaps a keyword that defines her way of living. She shared so much with us: knowledge, love, friendship, humour, and even sweets that she used to have in her office. Thank you for sharing your life with us, Puay. What a wonderful gift we received from you.
Even after we finished our PhDs she continued to be our mentor and was always there for us. We will feel profoundly her absence. But even though she has left us for now, and we are sad that she will not be physically around, we want to express our happiness to have met her. We were lucky that our paths crossed, we were lucky to have shared so much with her, we were lucky to have been helped by her and inspired by her. In that sense, she is with us and will be forever, for she has become a part of us and many others that had the luck to intersect their paths with Puay and feel at home for a time.
Petros Chamakiotis, University of Sussex:
One of the nicest people I have ever worked with. You will be missed, Puay.
Sylvan Katz, University of Sussex:
I will always remember her cheery smile and endless energy. She will be missed by all.
Benjamin Sovacool, SPRU, University of Sussex:
I miss her already. Apart from her use of creative terms (Spooky Central, Andy Pandy) and her hair, I most remember small acts of kindness. She learned I liked Asian food and brought me fresh noodles, or as she said, "some noodles for your noodle" (in Asia, a "noodle" can be another term for your digestive track). Or that she always had time for me whenever I had a question about SPRU or teaching. SPRU, indeed the world, is a little less colourful, a little less bright, for sure without her.
Matias Ramirez, SPRU, University of Sussex:
Most of us at SPRU knew Puay most of all through our sometimes intense work interactions. She took charge of one of the most demanding responsibilities as head of teaching - I suggested her as my replacement - and remember saying to Johan it is important to support her since it can be hugely stressful. Puay threw herself into this and fortunately for all of us, Puay was a very "human", sensitive and warm person. Yes she could be quite bossy, but was always aware of how changes can affect people and listened to all and tried to keep everyone on board - and this had a very positive effect on people around her who warmed to her.
News of her sudden death was extremely distressing to me, and her colleagues. To see and interact with colleagues intensely and then hear they suddenly pass away has made many of us re-evaluate life beyond the next project or paper and perhaps the need to be more supportive in the workplace. I and we will miss her all terribly.
Puay RIP
Daniel Paré, Ottowa:
Ode to Puay
It's been five days since the dreadful news cut to the bone
So many left dumbfounded
How is this possible? Gone; so suddenly
Trying, yet failing to comprehend
You, who was so full of wit
You, who never suffered fools gladly
You, who relished in piercing over-inflated egos
You, who was always ready to offer shelter
You, who made sure our stomachs were never empty
You, who was always a beacon of light
You, who was so respected
You, who helped so many
You, who we considered family; the older sister
You, who is now light
You, who is missed
Fare thee well my dear friend.
Geisha Sanchez:
I first met Dr. Puay at the SPRU Welcome event in 2017 wherein she gave a very inspiring and motivational speech for us, then newbies. I approached her after the event to ask sponsorship for attending a conference, of which she enthusiastically agreed. She was very hands on with students, always joining our pizza parties to check in on us and our experience with SPRU. We love being around her listening to her fun stories and words of wisdom. There was never a dull room when Puay is in it. I will remember her fondly for her spunky demeanor, cool hair, and for remembering my name even though I wasn't actually in her class.

Mike Pryce, Cranfield:
Puay was unique. Smart, funny, kind, challenging, interested, devoted, curious, direct, open. As both a neighbour and fellow 'SPRUer' she was all of these, and often in the space of a few minutes. She had a fast wit and mind, and did not take any nonsense. A great academic and a nice person. Her loss makes SPRU, Hove, the world, a poorer place.
Rachael Durrant, SPRU, University of Sussex:
My knowledge of Puay is only superficial, you might say, as she never taught me and we didn't work together. But I'm sure my memories of her from the past eight or so years of sharing a departmental home will endure to the end - they are loud and colourful and full of drama. Truly, there was not a dull moment when Puay was around and for that fact I already miss her.
Alex Coad, Centrum:
It would always brighten up my day to meet Puay in the SPRU corridors. She was a very fun and energetic person. She combined her hardworking and diligent attitude with contagious enthusiasm. She will be sadly missed by many. It was a pleasure to know you Puay.
Michael Barrow, University of Sussex:
Very sad news. Puay was always a colourful presence around the university and was great contributor to the work of SPRU and the Business School. We will miss her.
Davide Consoli, Ingenio:
Puay was one of a kind. Her energy, cheerfulness and wit will be badly missed.
Andy Newell, University of Sussex:
I'm saddened. Puay, for me, was always a breath of fresh air, someone with no side who was effortlessly positive. She was really important in fostering teaching links across the School. I'll miss her sense of fun and her sense of style too!
Mari Martiskainen, SPRU, University of Sussex:
Puay was an inspirational colleague with plenty of sharp wit. She added a breath of fresh air with her no-nonsense approach, sense of humour, bright office flowers and fabulous outfits. Puay was a great role model as a senior female academic in a rather male-dominated field. Puay will be missed by colleagues and students alike, and my thoughts are with Jordi and the rest of her family on this very sad occasion.
John Martins:
It was a great honour to have met Dr. Puay Tang during my time at Sussex university studying for a masters degree. Although she wasn't my lecturer for my modules she always had a welcoming smile and was a joy to see around the campus. My condolences go out to her family at this time, and I hope and pray that her legacy will live on through every person she met and taught. Thank you for your time and dedication in improving many lives at this university, you will always be remembered for your kind heart.
Claire Donovan, Brunel University London:
It was always a joy to work with Puay, and my heart would always lift when I saw her name on a delegate list for a conference or workshop. I remember her sharp intellect, her humour, and her kindness to early career researchers (me included, a while ago).
The deepest sympathies go out to SPRU colleagues and to Jordi, from the old HERG group at Brunel University, who were lucky to collaborate with Puay and others.
Andrea Prencipe, LUISS Business School:
A fantastic and enjoyable person, a caring and close friend, a rigorous colleague, a colourful chef...the Prencipes miss Puay.
Ismael Ràfols, Ingenio:
A fierce friend of her friends, below her tough looks, Puay was extremely supportive of us research collaborators and phd students, even if she did this in rather stern manners. She was understanding and sometime forgiving, while managing to keep us on track: you could be critical and outspoken, but she could not stand nonsense, nor ideological dressing without substance. In doing this, Puay was generous in pushing us to be rigorous and deliver sound and solid work — which was particularly important for PhD theses. A true liberal, she took pluralism seriously, in line with her colourful language and looks. All this made Puay a unique and fitting character of SPRU.
Juan Sebastian Castrillon:
I can only express my admiration and gratitude to such an amazing human being. She was the funniest, the most charming and charismatic person at SPRU. This is a terrible loss for SPRU, for all of us, and for the world! Rest in peace "Amiga". Have a nice trip and, may we see again!
Sam Grange:
Despite being neither my teacher nor my supervisor, Puy once invited me into their office for a chat about our favourite movies before quickly turning the conversation onto philosophy and the desperate need for pragmatism. This was one of the most valuable conversations I have ever had and one which I think back to often. Thank you Puay.
Tiago Santos Pereira, Centre for Social Studies, University of Coimbra:
Still shocked over these very sad news... although I have left SPRU several years ago, following my PhD, each time I would meet Puay it was like I had seen her the day before, so natural was each meeting. Of course it would include the warmest of welcomes, the greatest of laughs and a quick brief on the latest from SPRU, which helped in keeping all of us connected and continue to feel to be a part of. Her wit, pragmatism, sensibility and friendship - along with the wonderful Thai cuisine skills - were so important to me and many of us who were simple research students at the time and who found with Puay and Jordi the support needed to laugh at the past, value our work in the present and look brightly at the future. That light is still there.
Martin Meyer, University of Kent:
I was shocked to learn about Puay's passing. I will always remember her as the witty and vivacious friend she was. Her wit was only matched by her sense of style. Puay had a unique way of reaching out to people. The dinner parties she hosted were legendary. As academic, I remember Puay as opinionated and sharp but never hurtful. She was always full of energy and incredibly resourceful. It's difficult to realise she is gone.
Liz Allen, F1000:
I had the good fortune to meet Puay a couple of years ago while at a meeting in Valencia and was immediately blown away by her intellect, fun and immense warmth. She had the ability to charm those she met and light up any room she entered. She will be sorely missed by those at SPRU and way beyond - but she will certainly not be forgotten.
Paul Waldmann:
I was extremely sad to hear of the passing away of Puay. Having been a student rep during my MSc at SPRU in 2017/2018 I had a privileged contact with Puay to discuss the cohort's feedback. She was always paying close attention to what we communicated and acted upon it in order to find well-thought solutions. She was frank, shared her emotions and loved her students well. She even took the initiative to throw a social event (i.e. a party) for the SPRU students in the autumn term of 2017. She worked hard to achieve academic excellence and expected her students to do the same. She therefore succeeded to not only transmit great knowledge to the next generation but also a fair amount of wisdom and tips on how to become a better person. Her legacy will therefore continue to live on. Puay we miss you.
Yaqing Li:
I am very honor to have your course! You are amazing! You make the course have so much fun and so practical ! I always remember you use not perfect pronunciation to call my Chinese name, I always remember you use your smile and expecting eyes to encourage us to speak out, I always remember you like Spanish food, I always remember you ask us any suggestion to contribute SPRU. I am so lucky to meet you! I will always miss you!
RIP
Theerapat Borwornkitwattana:
She gave me energy when I really was down. I always remember to 'work on Monday to Saturday and have fun on Sunday, you will get a merit or distinction'. We will always remember her...
Santiago Cajiao:
I remember the last time I shared enough time with Puay, at the Managing IP farewell party. She was sharing anecdotes, asking about our lives and future plans, giving advice and having fun. As in that day, there was not an occasion in which I did not laugh with her. She had this vibe and entertaining flow to deliver lessons and speeches, always attentive while encouraging to bring out our best. Indeed, an inspiring professor and a warm person who enriched SPRU in all ways.
Julie Litchfield, University of Sussex:
I was very saddened to read this news. I worked closely with Puay when I was Director of Teaching and Learning and she had just taken over the teaching lead role for SPRU. Her energy, wit and enthusiasm, as well as her amazing style, were inspiring and uplifting. She was a fantastic colleague, tremendously committed to the students in SPRU and a great ambassador for the department. My thoughts are with her family, friends and colleagues.

Ammon Salter, University of Bath:
Puay was my 'big' sister - kind, funny and warm. She refused to acknowledge academic pretension and self-importance. She could disarm with a smile and/or joke, leaving a trail of humor and good sense in her wake. She was very encouraging and supportive to all of her many friends. We won't find another like her again.
Jon Sapsed, Newcastle University:
Puay was a close friend and her death was a shock to the heart. I first knew her when I was a doctoral student at SPRU some 20 years ago, she was a contract researcher working on IP in what we called multimedia in those early web times, loud, funny and enthusiastic she was a welcome addition to the Mantell Building corridors. The obituary nicely covers her achievements and her unique personality and qualities. I would also point out her fierce loyalty to friends, and also to SPRU, she believed in this special research organisation with its network of people and while acknowledging flaws and challenges she maintained this belief even when times were hard, which were wonderful qualities. Despite this respect she nevertheless kept a wry irreverence for academic pomposity and status and kept us all in check. I will miss her greatly, especially when returning to Brighton where there would be a cheerful greeting and update over her legendary dinners. What colour and fun she brought to us and I can't imagine the loss that Jordi is feeling. Goodbye Puay, old friend.
Basak Candemir:
I am deeply sad, and shocked to hear that Puay left us. I sat close to her in the Freeman Center which gave me a chance to know her and got infected by her energy. She was a strong and brave person which was an inspiration to see. I also consider myself very lucky to have enjoyed her cooking and taking home big wraps of food! Writing anything seems to absurd at the same time as I find it very unreal that this fierce friend bringing colour to our world is now gone.
I consider myself to have met you...