On Wednesday 28 February, Professor Johan Schot, Director of SPRU, gave a professorial lecture at the Chowen Lecture Theatre (Brighton and Sussex Medical School). The subject of his lecture was 'The World in Deep Transition: Prospects for Transformative Innovation Policy.'
His talk drew upon his latest work across two major research programmes at SPRU (the Transformative Innovation Policy Consortium (TIPC) and the Deep Transitions Programme), which look at transformative innovation policies and their potential to swiftly and significantly improve lives in marginalised societies. The research uses innovative social science approaches to understand how trends of the past can help us to imagine the future.
Prof Schot outlined two broad areas for discussion: firstly, how to understand what is happening in the world today; secondly, how does such understanding inform policy action for transformative change. Prof Schot demonstrated how his background as a historian of technology drives his understanding of present global societal challenges. He illustrated his historical approach with an engaging overview of the innovative technological developments that caused major social and technical changes in the port of Rotterdam in the 19th and 20th centuries.
The historical narrative of Rotterdam presented reflects the analytic framework developed by Prof Schot with Dr Laur Kanger. Illustrated by this slide (below), the framework demonstrates how broad, sweeping change (transition) happens in surges.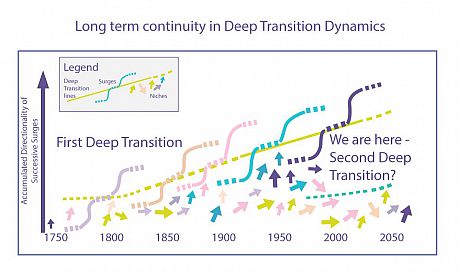 This background informs the methodology used in the Deep Transitions Programme at SPRU, led by Prof Schot, which examines the characteristics of earlier technological innovations for the establishment of better-informed, more responsible policy for the future.
This historical approach underpins Prof Schot's argument for a more nuanced understanding of transformative policy strategies in relation to the UN's Sustainable Development Goals. For example, in order to establish and implement policy strategies for achieving the UN's development goals, we require a greater understanding of how to adjust the world's current development path, through an awareness of its historical contingency.
Prof Schot also called for an appreciation of what is meant by 'transformation' in this context. He explained that the UN's Sustainable Goals address the provision of basic human needs (food, education, healthcare, etc.) that are dependent on interconnected social-technical systems. Subsequently, effective policy action in these areas requires the interweaving of various disciplines and stakeholder groups – an approach for which SPRU is world-renowned. Prof Schot introduced the Transformative Innovation Policy Consortium (TIPC), a major international initiative at SPRU of which he is a founding member; TIPC aims to shape and deliver a new transformative innovation policy framework in a transdisciplinary way.
Prof Schot concluded his lecture by illustrating how, beginning in March 2018, TIPC will embark on an ambitious five-year programme to conduct research, initiate policy experiments, offer training and establish deep learning and evaluation. It will work collaboratively with international governments and organisations interested in implementing the Transformative Innovation Policy framework to address the challenges of deep transition and bring about true systems change (illustrated by the slide, below).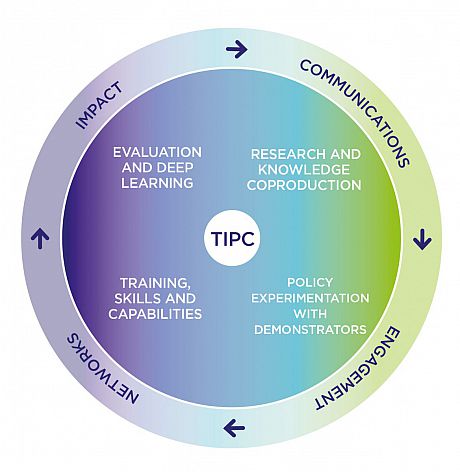 Professor Schot said: "My Sussex professorial lecture was a perfect exercise in bringing together my historical, future-oriented and policy work, all in one go! It connected my past and future, in terms of the content of the lecture and also in terms of my audience. It was a pleasure and an honour to deliver."
Visit the Sussex Lecture Series page to view video footage of all public lectures at the University of Sussex.
Documentation of SPRU Professorial Lectures is available here.