8th-10th January 2018, Mexico City
SPRU, in collaboration with the Mexican National Council of Science and Technology (CONACYT) organized a successful three-day event on 'Transformative Change and the Three Frames of Innovation Policy'.
The event was in association with the Transformative Innovation Policy Consortium (TIPC) and is the beginning of an important partnership between SPRU; CONACYT; and the British Council, via the Newton Fund, as Mexico, through CONACYT's Department of Technology Commercialization, aims to join the full TIPC programme later in 2018.
Hosted by the Science and Technology Consultative Forum (FCCyT) in Mexico City, the event brought together academics, policymakers and civil society participants, as Mexico begins its preparatory phase, before entering full TIPC membership. Over the three days, experts from SPRU delivered training on transformative innovation theory and practice, working together with Mexican participants to translate this into a local context and relating it specifically to societal challenges, including a focus on Inclusive Innovation and Grassroots Innovation.
The training developed a theoretical understanding of the three different framings of innovation (R&D; National Systems of Innovation; and Transformative Innovation), and then applyed these ideas to specific policy initiatives in Mexico. Key concepts and tools from Sustainability Transitions theory including the Multi Level Perspective (MLP) and Strategic Niche Management (SNM) also featured, allowing a deeper understanding of the nature of transformative change.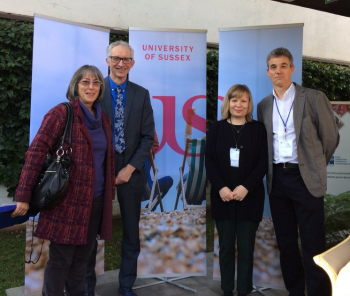 Following this first stage of work the SPRU research team will collaborate with a team of Mexican policymakers on a case study which will allow for a deeper review of Transformative Innovation Policy (TIP) in Mexico and how it may be developed.
In anticipation of the event Johan Schot, Professor of Sustainability Transitions and the History of Technology, and SPRU Director, said:
"My expectation is that new transformative innovation policies will be developed in the Global South as well as the Global North. I am confident that working with our partners in Mexico will be an exciting journey for all of us involved. I am looking forward to learning from and contributing to transformative initiatives in Mexico."
Kevin Mackenzie, the British Council's Country Director in Mexico said:
"Over the next ten years Mexico is expected to become one of the ten largest economies in the world and as such is a key strategic partner for the United Kingdom. The Newton Fund supports projects in Mexico that in the long term ensure shared prosperity between both nations. The British Council believes that innovation plays a fundamental role in the development process of countries such as Mexico. It is for this reason the British Council is promoting the "Transformative Innovation" project, which together with our Mexican partners will ensure the integration of innovation as an essential component to consolidate economic growth and social development."
The Transformative Innovation Policy Consortium, founded in 2016 by SPRU, alongside research funders and innovation agencies from Colombia, Finland, Norway, South Africa and Sweden, aims to address global challenges - for example, a central focus for TIPC is how nations might approach and achieve the United Nations' Sustainable Development Goals (SDGs). Methods and initiatives are being developed through joint research and knowledge production, to formulate fresh ways of framing and delivering innovation policy to promote long-term transformative change and innovation, across different sectors, societies and systems, to aid a transition towards sustainable global growth and development.
Further Information
To find out more about the project visit the TIPC website or twitter page.