Religion and Development in the Global South – a new book by Dr Rumy Hasan – examines compelling links between religious oppression and economic stagnation. It looks at how the beliefs and practices of the world's major religions (Islam, Hinduism, Christianity and Confucianism), as well as other belief systems, affect the variables that influence growth and development in the Global South.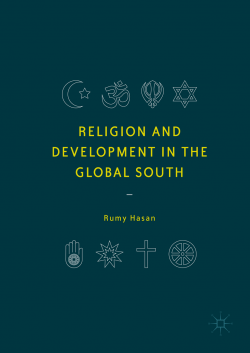 Dr Hasan explores at the nexus between religion and development, drawing insights from Weber's 'The Protestant Ethic and the Spirit of Capitalism'. The theory posits that the rise of capitalism in the West was rooted in Protestant (especially Calvinist) ethics and attendant cultural dispositions, which stressed the importance of hard work and wealth creation.
In contrast, those religions and cultures (Catholicism and, even more so, Hinduism and Buddhism) that stress anti-materialism – focussing instead on spiritualism – thereby discouraged entrepreneurship and wealth creation, acting as a brake on economic development. A similar, if not identical, reasoning can also be applied to Muslim-majority countries that congregate at the lower end of the global socio-economic ladder.
Evidence suggests that, as countries develop, the influence of religion on all aspects of society declines. In stark contrast to the developed world, the role of religion in the Global South is highly pervasive – the distinctive conclusion of this book is therefore that a lessening of religiosity is a significant precursor for growth and development, including secular laws and constitutions.
Dr Hasan explains:
"This is a subject rarely touched on, yet one that has actionable and tangible consequences for those in the global south… It just needed someone to do the heavy research, draw conclusions and present them to the world in a way people and influencers from all walks of life could relate to. I admit, it was quite the task. Of course, it also opens the floodgates to a myriad of follow-up studies that all point to my end goal of improving life and our understanding of humanity."
In response to the book, Baroness Falkner of Margravine (Member of the House of Lords), wrote:
"Rumy Hasan explores a much neglected aspect of development, how the hold of certain religions on society retards economic progress. This is a bold book that deserves to be widely read. It starts a conversation in public policy we can't any longer ignore."
Religion and Development in the Global South was published on 25 October 2017, and is available for purchase on Amazon.
Image credit: Weng Fen via Public Delivery.org.