Academics at SPRU presented their findings from the International Centre for Infrastructure Futures (ICIF) project, at its Exhibition and Networking Forum in London on 21 February 2017. The day-long event sought to address infrastructure's 'Grand Challenges' through a series of innovative discussion sessions, specially designed to enhance engagement and interactivity.
To facilitate knowledge exchange, the SPRU team developed a series of engaging materials, including a policy brief, a set of postcards, research papers, reports and a book of White Papers, alongside an updated SPRU infrastructure leaflet.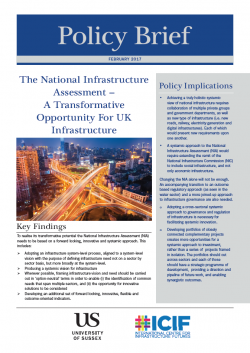 The policy brief – titled The National Infrastructure Assessment – A Transformative Opportunity For UK Infrastructure – was co-authored by Dr Hiteva and Dr Tom Dolan (UCL STEaPP). Produced with support from the Policy@Sussex initiative, the brief responds to the UK government and industry agenda on creating a more strategic vision for UK infrastructure and introducing more coordination between different infrastructure institutions, projects and objectives. It outlines key findings and recommendations to enable the National Infrastructure Assessment (NIA) to realise its transformative potential, and their implications for policy.
The postcards (see image gallery below) profile key messages and policy implications resulting from the ICIF project, enabling detailed academic research to be communicated in a succinct and visually-engaging way, facilitating understanding, discussion and distribution of ideas.
The day's innovative and interactive format included chat-show-style interviews with keynote guests, an audience-led 'Question Time' session, research showcases and an interactive 'World Café' activity, exploring the challenges at the heart of infrastructure systems. The event aimed to create interdisciplinary and cross-sectoral dialogues around four Infrastructure 'Grand Challenges', building on research carried out during the ICIF project:
Its setup reflected the entrepreneurial spirit of academic research called for by keynote speaker Isabel Dedring (Director of Global Transport Leader Arup) in infrastructure governance: proactivity, engagement and a breakdown of barriers between sectors and disciplines.
Professor Paul Nightingale, Dr Ralitsa Hiteva and Dr Kat Lovell took part in the event, which was attended by over 100 participants, including academics, industry experts and policymakers. The day was also attended by a number of students currently enrolled on SPRU's 'Infrastructure and Innovation' module (see MSc Science and Technology Policy), which was designed as a result of the ICIF project and is convened by Drs Hiteva and Lovell.
SPRU members presented cutting-edge research during two of the event's four Showcase sessions, including:
Hiteva, R. and Sovacool, B., Harnessing Social Innovation for Energy Justice: A Business Model Perspective (March 2017)
Hiteva, R. Foxon, T. and Lovell, K., Value Creation and Capture for a Low Carbon Infrastructure (April 2017)
Lovell, K. and Nightingale, P., Business models in rail infrastructure: explaining innovation (2016)
Hiteva, R. and Dolan, T., The National Infrastructure Assessment – A Transformative Opportunity For UK Infrastructure (2017)
The work of the team (Dr Hiteva and Dr Lovell) continues with a series of sessions and an infrastructure walk in Boston at the Annual Meeting of the Association of American Geographers in April 2017. Alongside two panel sessions, they will run three linked paper sessions on the 'Building blocks and values in infrastructure: understanding agency, normativity, directionality & change.' Dr Hiteva and Dr Lovell – along with ICIF colleagues – will be presenting their forthcoming pivot on Understanding infrastructure: need, value and purpose.
Funded by the EPSRC, the ICIF project involved academic collaboration between 6 UK universities, and ends in April 2017. More details about the international engagement events, presentations and research outputs for the ICIF team at SPRU can be found on the dedicated 'Infrastructure research at SPRU' page.
Further information
Read more about SPRU infrastructure research, including upcoming events.
Read the policy brief: The National Infrastructure Assessment – A Transformative Opportunity For UK Infrastructure
Visit the ICIF website to view the Exhibition and Networking Forum agenda and other details on the project.
Revisit the event conversation on Twitter via #icifGC.
ICIF Infrastructure Grand Challenges postcard set