On 21 March 2017, Professor Johan Schot, Director of SPRU – the Science Policy Research Unit at the University of Sussex, will be awarded an honorary degree from the Universidade NOVA de Lisboa (New University of Lisbon) for his work in the discipline of the History of Science and Technology. He is the first person to receive an 'honoris causa' from a university in Portugal for work in this area.
Presented at a special ceremony on 21 March 2017, the accolade recognises Professor Schot's influential, wide-ranging and significant research in the field. The award also recognises his skill for extensive collaborative work in creating and fostering transnational research communities.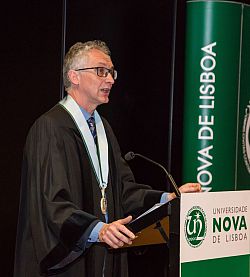 Professor Maria Paula Diogo, Head of the Interuniversity Centre for the History of Science and Technology (CIUHCT) at the University of Lisbon, who nominated Professor Schot for the degree, stated that:
"Johan's CV clearly shows a dynamic career, punctuated by a set of books and articles that are must-have references in the field of History of Technology. However, what is really unique about Professor Schot is his ability to bring people together to work around a research project or a specific scientific output, his generosity in welcoming new scholars, the absence of any prejudices, his vibrant enthusiasm for research and debate, and his perseverance in the face of adversity. The Centre for the History of Science and Technology largely benefited from being part of 'Tensions of Europe', one of Johan's main scientific networks. This honorary degree is thus an accolade to fruitful transnational collaboration and solidarity: values that we should treasure as the most important legacy to the younger generation of historians of technology".
Last year Professor Schot initiated and co-founded a new international collaborative work, the Transformative Innovation Policy Consortium (TIPC), as a means to address global challenges through examining and expanding on current thinking on innovation, and building new platforms for a mutual learning process between the Global North and South and between research and policy.
Whilst in Portugal, Johan will seek to develop new links, potentially as members of TIPC, with policymakers from the Ministry of Science, Technology and Higher Education and the foundation for science and technology, (Fundação para a Ciência e Tecnologia (FCT)), which is the national funding agency for science, research and technology. Such collaboration will strengthen the integration and research relationship between SPRU and the science, technology and innovation sector in both Portugal and the wider international research community.
On receiving the Honorary Degree, Professor Schot said:
"I am deeply honoured. I would like to thank the University, and all the people who contributed to me getting this award. I have been working with Portuguese historians of science and technology, led by Maria Paula Diogo, for two decades now. It has been a transformational experience. They were crucially important in arguing and showing that European History is not just generated in Western Europe but that crucial contributions have been made by other regions and people in Europe. On top of that, they have put the History of Europe into a global perspective, offering a much-needed provocation to the story that Europeans are innovating and diffusing their practices to the rest of the world. Instead they have produced histories which show a much more symmetrical account of encounters between the peoples of Europe and other parts of the world. It has been an exciting and inspirational journey which I am very happy to continue and celebrate."
The 'Tensions of Europe' network led to a six-volume book series 'Making Europe', edited by Professor Schot. The final book in the series – Europeans Globalizing, Mapping, Exploiting, Exchanging (Diogo and Van Laak) – will also be launched at a corresponding event on 22 March at the Universidade NOVA de Lisboa. The series examines the continent through a fresh lens and perspectives and offers an important viewpoint for the current debate on Europe – its validity, meaning and future.