Professor Paul Nightingale has received an award for 'Outstanding or Innovative Postgraduate Teaching' in the Student-Led Teaching Awards 2016-17.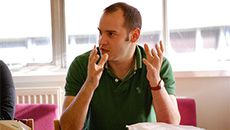 Professor Nightingale teaches one of SPRU's core MSc modules: Science, Technology and Innovations: Markets, Firms and Policies, alongside supervising a number of doctoral and Masters students. The module has a key focus on developing understanding that contributes towards practical analysis of innovation policy and management problems.
Director of SPRU, Professor Johan Schot, commented:
"This is fantastic news! Paul lives one of the core SPRU values which is research-led teaching. At SPRU, teaching is important because it allows us to discuss our research, engage and get feedback. As we continue to expand our course options and teaching facility, this award is evidence that our principles continue to be valued."
One of 55 winners from across the University – including five from the School of Business, Management and Economics – Professor Nightingale is Professor of Strategy and Deputy Director of SPRU and is involved in a number of research projects as well as his postgraduate teaching activities.
The Student-Led Teaching Awards are completely student-led, with all nominations coming from students, and the decision panels who make the awards are made up of Student Reps and the Students' Union Education Officers. Winners were invited to receive their certificate at a presentation ceremony at the end of the Annual Teaching and Learning Conference on 5 April 2017.
Within the same week, Professor Nightingale also won a 2017 BMEc Award for 'Outstanding Teaching Contribution'.
Professor Nightingale discusses the MSc in Science and Technology Policy:
Dr Josh Siepel has also previously received an 'Excellence in Teaching award' for 'Outstanding or Innovative Postgraduate Teaching.'
Further information
Find out more about MSc and PhD study at SPRU, including scholarship opportunities.