The Science Policy Research Unit (SPRU) in the School of Business, Management and Economics at the University of Sussex has received a substantial donation from investment management firm Baillie Gifford, to fund cutting-edge research on Deep Transitions. The term refers to a coordinated change of many socio-technical systems in the same direction, to achieve large-scale social and economic impact.
Launching at the British Science Festival in Brighton, the Deep Transitions programme – led by Professor Johan Schot, Director of SPRU – will use innovative social science approaches to understand how trends of the past can help us to imagine the future. Professor Schot explains the concept in this short introductory video:

On receiving funding for the project, Professor Schot said:
We are delighted and extremely grateful that Baillie Gifford are supporting this programme of research. Our world in transition is facing urgent problems; the unfolding of industrial progress has led to high levels of wealth and welfare in the Western world but also to increasing global ecological degradation and widespread social inequality. This unique opportunity will enable critical research into the nature of Deep Transitions, the factors that drive these large-scale system changes, and ultimately how these might be influenced in a positive direction for the benefit of humankind and our environment.
James Anderson, Partner, Baillie Gifford, and co-manager Scottish Mortgage Investment Trust, says:
As long term investors, we have an insatiable appetite for knowledge, learning from new and varied sources to gain insight to shape our investment decisions. It's important for us to build relations and gather knowledge from people outside of the narrow traditional sources commonly used in the financial industry. Within the Scottish Mortgage portfolio of companies, we constantly strive to back innovation; we understand that intersectionality is an important aspect and we believe this research will be of great assistance.
Professor Steven McGuire, Head of School for Business, Management and Economics said:
SPRU pioneered the study of how technological change influenced - and was affected by - society and policy. The Deep Transitions programme is the latest project in this rich intellectual history. Sustaining and enhancing life for billions of people in the coming years requires a re-thinking of established practices and assumptions. The project will help us understand how this major change in practice, beliefs and technologies develops. Even at this early stage, Deep Transitions has attracted substantial interest from academe, government and business. The project illustrates the direct and influential links the School of Business, Management and Economics has with industry partners.
Working on the premise that the so-called First Deep Transition – the industrial modernisation of the past 250 years – is increasingly unsustainable, the programme seeks to map a radically different set of scenarios for the Second Deep Transition.
Using a framework developed by Professor Schot and Dr Laur Kanger, the team will use analysis of existing systems to project the fundamental changes necessary for sustaining humane quality of life for all, within the Earth's environmental boundaries.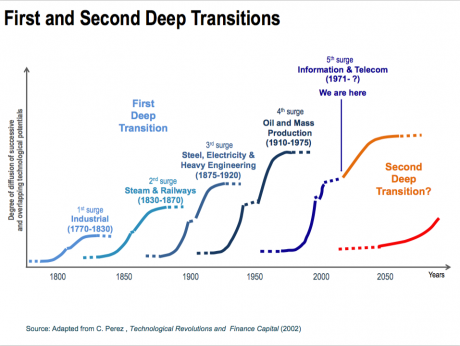 Having identified a need to drastically reshape the way we use resources, and adapt to their consequences, the programme will examine characteristics of the First Deep Transition, including:
An instrumental view of nature (including humans) as a resource to be manipulated, despite detrimental effects;
A belief in the possibility of endless technology-fuelled growth, assuming a limitless supply of resources and capacities to absorb waste;
A view of science, technology and innovation as inherently beneficial (socially and economically) and free from responsibility for negative impacts.
In a move away from these driving principles (and the resulting socio-technical patterns), a Second Deep Transition could include elements such as a circular economy, renewable energies and more responsible research and innovation.
In a recent speech to the Society for the History of Technology (SHOT), Professor Schot made a plea for "us[ing] the historical imagination to engage more with the huge challenges our world is facing". He argued that "we historians of technology need to challenge the view that there are no real alternatives" to the current systems for energy, healthcare, mobility, food and other resources.
Beginning in September 2017, for an initial three years, the programme will involve a number of additional SPRU faculty, including: Professor Ed Steinmueller, Dr Caitriona McLeish, Dr Daniele Rotolo, Dr Laur Kanger, Dr Frederique Bone. Further, the Deep Transitions project links to the groundbreaking work of the Transformative Innovation Policy Consortium (TIPC), also led by Professor Schot. TIPC is an international partnership of research agencies and funders coproducing, with academics from SPRU, the next generation of science, technology and innovation policy thinking. Transformative Innovation Policy places societal aims, such as the UN's Sustainable Development Goals, as a starting point for STI endeavours to help change methods of system provision, for example, in our health, food and energy sectors. The Consortium is looking to help create new directions and pathways for the Deep Transitions.
Scottish Mortgage Investment Trust PLC
Scottish Mortgage is an actively managed investment trust, investing in a high conviction, global portfolio of companies with the aim of maximising its total return to its shareholders over the long term and has a strong focus on providing a low cost long term investment proposition to its shareholders.
Baillie Gifford
Baillie Gifford & Co Limited is the Manager of Scottish Mortgage Investment Trust. Baillie Gifford is an asset management firm founded in 1908, it is headquartered in Edinburgh where most of its staff live and work.
Further information
Read the SPRU Working paper 'Deep Transitions: Emergence, Acceleration, Stabilization and Directionality' by Prof Johan Schot and Dr Laur Kanger.
Watch the Deep Transitions Programme introductory video via the SPRU Youtube channel.
Follow @SPRU and @TIPConsortium on Twitter
Visit www.johanschot.com and www.transformative-innovation-policy.net