Brazil must put investment back at the core of its economic policy to achieve economic recovery and long-term growth, Mariana Mazzucato, RM Philips Professor in the Economics of Innovation, and Dr Caetano Penna (Former SPRU PhD student and Research Fellow) argue in a report commissioned by the Brazilian Government.
The report was launched at the Ministry of Science, Technology & Innovation with Minister Celso Pansera on 6 April, 2016 who said that the study would contribute to the construction of the National Strategy for Science, Technology and Innovation.
While in Brazil, Professor Mazzucato was also invited to give a talk to the Federal Court of Accounts of Brazil (TCU) in front of its nine ministers and the Federal Prosecutor.
In their report, the authors argued that while Brazil seemed on course to become a more innovation centred economy, the implications of its recent political-economic crisis on strategic public investment threatens the future of innovation-led growth. A combination of recent lagging public investment and a history of low private investment, in the immediate context of an unstable political-economic environment, mean future generations are at risk of losing out on economic opportunities for decades to come.
The report considers the strengths and weaknesses of the Brazilian innovation system, and outlines concrete ways in which public investment can create new areas of competitiveness and ultimately crowd in private investment, driven by mission-oriented innovation. This is especially key in a country with historical low levels of business spending on research and development. The report defines mission-oriented policies as systemic public policies that draw on frontier knowledge to attain specific long-term goals which meet societal challenges—'big science deployed to meet big problems'. Rather than a static list of sectors for government to support and subsidize it considers investment in new techno-economic paradigms, or new directions for existing technologies, to address societal problems that cut across many different sectors.
Mazzucato said:
"Brazil must put investment and innovation at the heart of its economic growth policy. While Brazil's current political and economic situation poses a huge challenge in a country whose socio-economic development is still incomplete, there is an alternative to an austerity-driven agenda. Brazil has a moderate debt to GDP ratio. The emphasis should not be on cutting its deficit but on kick-starting strategic investment led growth in both the public and private sectors.
"Public investments in R&D and innovation are productivity enhancing—creating well-paid jobs and can, if organised dynamically, produce a high return with spillovers across the economy.
"A mission oriented innovation policy can have impact on multiple sectors. To do so a network of public agencies needs to work closely with the private sector to transform production and distribution. These kinds of investments and partnerships cost public money in the short-term but in the long-term increase competitiveness and GDP, thus keeping debt to GDP levels in check.
"Innovation has not only a rate but also a direction. Our report sets out how a new mission-oriented policy framework could increase the effectiveness of innovation policy in Brazil, enabling it to define the direction of its own development trajectory."
In advance of the launch, Professor Mazzucato gave an interview with Globo News, one of Brazil's largest TV networks.
The report, "The Brazilian Innovation System: A Mission-Oriented Policy Proposal", was commissioned by the Brazilian Ministry of Science and Technology in 2015, through the Centre for Strategic Management and Studies.
The report draws on Mazzucato's book on The Entrepreneurial State: debunking public vs. private sector myths (O Estado Empreendedor in Brazil) and her related work with Penna on Mission Oriented Finance for Innovation arguing that innovation-led, inclusive and sustainable growth requires rethinking the role of the state in the economy. It examines the strengths and weaknesses of Brazil's current innovation ecosystem and sets out how a new mission-oriented policy-framework could enable Brazil to rebalance public finances by increasing strategic investments that will address societal problems faced by the country while also increasing future revenues to rebalance the public budget over the longer-term.
Professor Mazzucato previously met with President Dilma Rousseff and Government Minsters in 2015 to discuss her work. In their report, Mazzucato and Penna argue that there are opportunities for Brazil to establish a positive long-term agenda for development, sowing the seeds of a more mission-oriented national system of innovation.
The report's policy recommendations include:
Making macroeconomic policies more supportive of explicit innovation programmes.
Building mission-oriented innovation system with a decentralised network of strategic public institutions that interact dynamically with business.
Reforming the Brazilian tax system and removing the barriers to implementing public procurement for innovation.
Establishing and reinforcing mechanisms for competition, cooperation, and accountability to balance the roles of state, business sector, and academia in mission-oriented policy programs.
Evaluating Brazil's existing 'mission-oriented' policy experiments, including successful programmes such as health policies and the PAISS programme, but also less successful ones such as Inova Sustentabilidade, in order to learn lessons and establish improved mission-oriented policies.
Mission-oriented networks and partnerships should be created between public agencies to enable successful features of programs and institutions to be emulated
Missions should be chosen which create a long-term state agenda for innovation policies, addressing a societal demand or need, drawing on existing public and private resources, be amenable to existing policy instruments, and command broad and continuous political support.
Continue, improve and expand successful mission-oriented initiatives (e.g. health policies and the Inova program) alongside detailed scoping of existing and new capacities required for potential new missions. New missions could include: Urban, suburban and interurban infrastructure; Public service and public infrastructure; Agribusiness and familiar agriculture; Energy and the environment; and National security.
Future missions should, where feasible, be designed in a way that contributes to tackling inequality. In some cases, complementary investment in infrastructure and skills will be required if innovation policies are to be effective in addressing inequality.
Further information: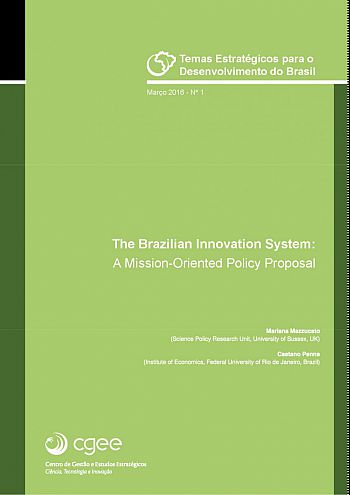 Read the University of Sussex press release.
Read the report: "The Brazilian Innovation System: A Mission-Oriented Policy Proposal".
Article about the report by the Ministry of Science, Technology and Innovation.
The Minister of Science, Technology and Innovation, Celso Pansera, responds to the report.
Read the Ministry of Defence's summary of the report.
Watch Professor Mazzucato's interview with Globo News, one of the largest TV networks in Brazil.
Read an interview with Mazzucato and Penna in Valor, Brazil's largest financial newspaper.
Read EBC Agência Brasil's news story and view photos from the report launch.
Read more about the report: Agência Gestão CT&I, Centro de Gestão e Estudos Estratégicos (CGEE).

*flickr photo by seier+seier shared under a Creative Commons (BY) license