On Tuesday 21 June 2016, Professor Johan Schot, Director of SPRU and Professor Lan Xue, Dean of the School of Public Policy and Management at Tsinghua University signed a Memorandum of Cooperation regarding the Cooperative Center for Innovation Governance (CCIG).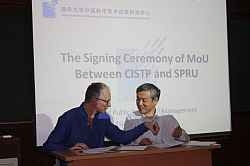 The mutual covenant is the beginning of a long-term comprehensive partnership that will enable SPRU and CCIG to collaborate on academic research and policy analysis on innovation governance through the following activities:
Development of theories, tools and methodologies
Joint organisation of seminars, workshops and conferences on innovation governance
Joint funding applications
Joint courses and training programmes
Joint academic articles, books or reports
Exchanges of both staff and students
Xue Lan said: "SPRU is the leading centre of excellence in Science, Technology, and Innovation Policy. These activities will be of mutual development and provide a solid foundation for the development of CCIG at Tsinghua, which was set up to advance research in innovation-driven development and innovation governance."
The Centre aims to provide research and professional expertise to support the implementation of the national innovation-driven development strategy as well as consultancy on the reform of the national science and technology system and related policy-making.
Professor Schot said: "Over three decades, SPRU has worked closely with Chinese colleagues on science, technology and innovation research and policy. The School of Public Policy and Management at Tsinghua University has already made significant contributions to the formulation and implementation of public policies in China, and we will work together with CCIG to continue along this path."
After the short signing ceremony, Professor Johan Schot gave a speech on 'Three frames of Innovation Policy: Market failures, system failures, social needs and environmental failures'.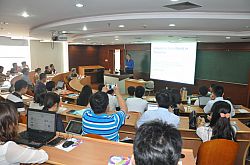 During the speech, Professor Schot called for innovative thinking to address the interconnected social, economic and ecological challenges and inequality facing humanity. China is committed to green transformation, in which innovation has a key role.
He specifically focused on the need for a Deep Transition – a series of connected transformations towards social justice and sustainable production and consumption within a wide range of socio-technical systems such as food, energy, water, mobility, communication, materials and healthcare – in order to achieve the UN's Sustainable Development Goals (SDGs). Professor Schot then presented a new framework that builds on a body of work by SPRU, which helps to conceptualise the evolution of socio-technical systems.
SPRU has an outstanding track record working with partners across the globe, combining world leading academic research and practical policies. It has long-standing expertise on science and technology policy in China and continues to investigate innovation issues with a particular focus on China such as: low-carbon innovation in China.
The School of Public Policy and Management of Tsinghua University was founded in 2000. As the first graduate school of public administration in China, the School's mission is to become a world-class institution that actively engages in teaching, research, and consulting in global public affairs. The research activities in public policy and management at the school have made significant contributions to the formulation and implementation of public policies in China.