At the end of March 2015, SPRU collaborated on a two day workshop on 'Exploring the Knowledge and Innovation Policy Interface and its Gender' with GenderInSITE, an international campaign to raise awareness among decision-makers on gender and science, innovation, technology and engineering (SITE). The aim was to learn from insights and experiences of the knowledge-policy making interface in science, innovation, technology and engineering with the intention of exploring how they relate to gender-equitable sustainable development.
The event included an interactive workshop on International Approaches to Support Gender Equality in Research Careers for postdoctoral research staff, early career academic faculty and final year PhDs at the University of Sussex. The workshop consisted of a World Café and panel discussion and brought together early career academics, an international and diverse group of GenderInSITE experts with long experience in working in academia, industry, NGOs and policy, as well as the Athena SWAN Committee at the University of Sussex.
Workshop participants exchanged ideas, experiences, concerns and good practices relating to issues of gender equality in career progression, which were mapped using live graphic recording and tweets (see storify).
The discussion covered a broad range of issues around what the University of Sussex could do to support female research staff better throughout their careers; on the types of skills needed by early career researchers to work in their engagement with external stakeholders during high-impact, interdisciplinary research projects; and on positive discrimination in research grants allocation.
Dr Ralitsa Hiteva provides a summary of the key points from the workshop, also captured graphically by Claire Holgate.
Key points
The temptation to focus gender equality efforts on providing women with the "right types of skills" and increasing women's numbers is big, especially when the gender gaps is wide. However, the approach imposes an undue burden on individual women's responsibilities. Instead, responsibilities should be shared with the institution and society at large.
It was acknowledged that while women can develop skills, they face institutional constraints, beyond their own agency. Changes should take place through changing values, by creating appropriate culture and conditions and "fixing the system", not women.
Gender equality in contemporary research institutions needs a new knowledge infrastructure supported by/operating within a strong institutional infrastructure.
Instead of making gender an additional workload for women, and assume that all women understand gender issues, gender training should become part and parcel of institutional culture, from new staff induction to gender training for new department heads at research institutions. Practices like making available statistical data within Universities about pay and gender representation at different levels; and producing and working with gender specific data, are essential for changing values in hierarchical thinking. Equally important are breeding a culture of credit sharing with junior staff in team meetings, in the same way with publications, and the provision of career mentors and sponsors.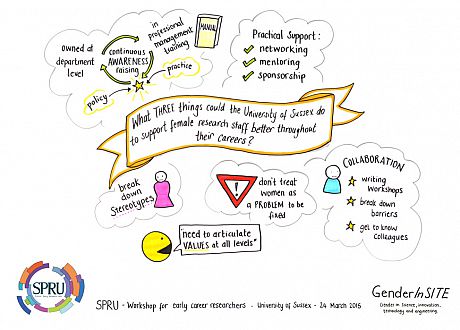 Q1: What three things could the University of Sussex do to support female research staff better throughout their careers?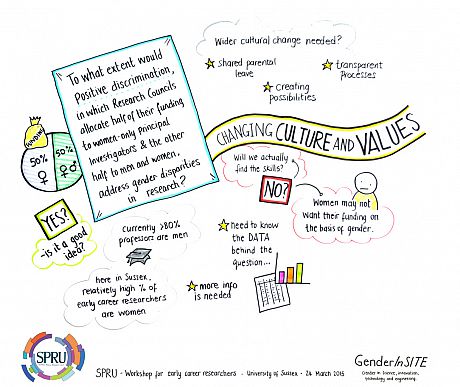 Q2: To what extent would positive discrimination, in which Research Councils allocate half of their funding to women only principal investigators and the other half to men and women, address gender disparities in research?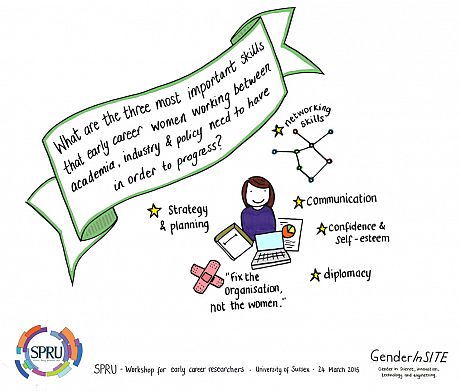 Q3: What are the three most important skills that early career women working between academia, industry and policy need to have in order to progress?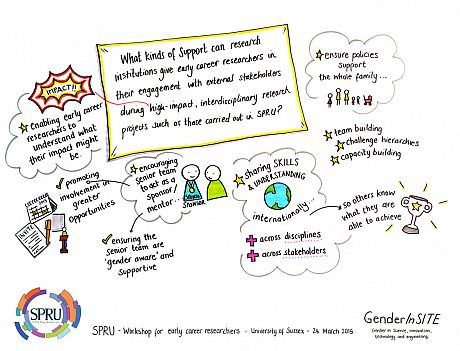 Q4: What kinds of support can research institutions give early career researchers in their engagement with external stakeholders during high-impact, interdisciplinary research projects such as those carried out in SPRU?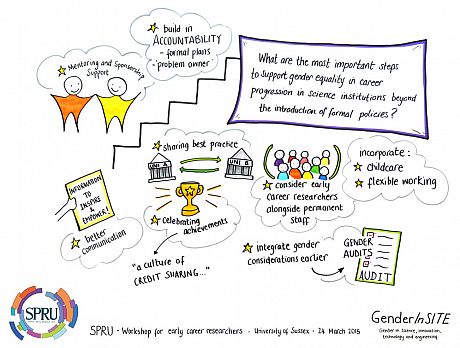 Q5: What are the most important steps to support gender equality in career progression in science institutions beyond the introduction of formal policies?