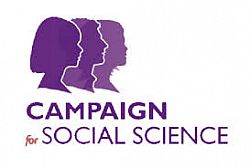 As chair of the Campaign for Social Science, Professor James Wilsdon will be speaking alongside Caroline Lucas MP at a special event on 23 April to debate the future of social science over the next five years.
As part of a series of pre-election Campaign for Social science 'roadshows' the special event will debate how social science can help us meet the big societal challenges, including climate change, social inclusion, sustainable growth, food security, wellbeing and healthy cities.
The Campaign for Social Science published a major report on social science and society a few weeks ago. The report, 'The Business of People' argues that greater investment in science and innovation is required – not just for growth and economic recovery, but to inform debate and policymaking, for example around migration, housing, devolution of power within the UK and the UK's position in Europe.
The report illustrates the many ways in which social scientists are contributing to changing practice and deepening knowledge. It outlines the size and structure of UK social science, its contribution to GDP, and how social science graduates are working in firms, government and the third sector.
The Campaign for Social Science was launched to raise the profile of social science in the public, media and Parliament. Its chair, James Wilsdon, is Professor of Science & Democracy at SPRU, and also led the Royal Society's evidence gathering and advocacy for investment in research through the 2010 election and spending review.
Date: Thursday April 23 2015 4pm – 6pm (drinks reception from 5.30pm)
Location: Room 129 Mayfield House, Falmer Campus, University of Brighton.
The panel:
Professor David Taylor, Dean of the College of Social Sciences, University of Brighton (Chair);
Caroline Lucas, MP for Brighton Pavilion;
Professor Bruce Brown, Pro-Vice Chancellor Research, University of Brighton;
Dr Dinah Rajak, Senior Lecturer in Anthropology and Development, University of Sussex;
Professor James Wilsdon, Science Policy Research Unit, University of Sussex & Chair of the Campaign for Social Science.
Sign up to attend this event via Eventbrite.