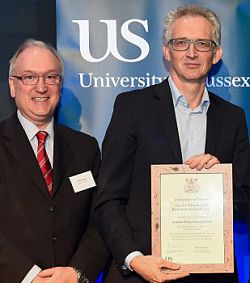 At the inaugural Sussex Impact and Research Awards on 16 June, members of SPRU received awards for both Enabling and Achieving Impact, as well as a Special Award for Sustained Achievement in Impact for the whole SPRU team.
Director, Johan Schot received this special award on behalf of the team in recognition of SPRU's long-term commitment to engagement with the highest levels of government, industry and civil society.
Early career researcher, Dr Rachael Durrant, who only completed her PhD in 2014, received an award for Enabling Impact for her research into civil society activism for sustainable food systems. Her dissemination of this research led governments and charities to seek advice on how to support this change towards a more sustainable approach. She has also established networks that have enabled environmental NGOs and policy makers to connect with each other and with academics working in the area.
In the category of Achieving Impact, SPRU's Dr Roberto Camerani won the award for early career researcher for his role in the Brighton Fuse project which has informed strategies to develop the creative, digital and IT cluster, particularly in Brighton.
In addition, Dr Caitriona McLeish and Dr Jamie Revill, researchers of the Harvard Sussex Program were also awarded for Enabling Impact. This award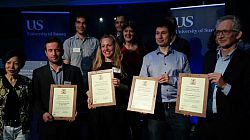 celebrates outstanding engagement and activity that is likely to lead to research impact of reach and significance. Both researchers have helped to shape public policy on chemical and biological weapons and are currently conducting research into allegations of chemical weapons use as part of an international investigation.
Professor Steve McGuire, Head of the School of Business, Management and Economics said "I wish to offer my congratulations to the winners and to all colleagues nominated from across all three BMEc departments. SPRU received a special 'lifetime achievement' award in recognition of its substantial and sustained impact on public policy around the world."
Within the School of Business, Management and Economics, Professor Richard Tol also received an award for Achieving Impact for his work on the social cost of carbon which has started to transform industrial, commercial and domestic energy use in the US.
With the UK government and other research funders increasingly requiring universities to demonstrate the impact of their research, the Sussex Impact and Research awards recognizes individual achievements and highlights the range of impacts of our research across society.